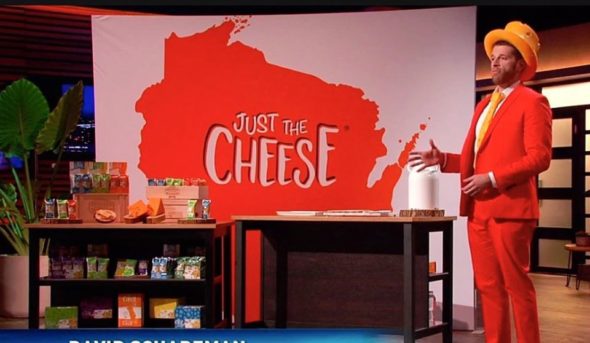 David Scharfman decided to resurrect Just the Cheese, his family run cheese bar company, back in 2017. His family owns a cheese business and when David was younger, he came up with an idea for a new product. When making a grilled cheese sandwich, David always liked when the cheese burnt crispy. He literally wanted "just the cheese." So he asked his dad to make cheese bars inspired by the burnt grilled cheese.
They did it and Just the Cheese bars became a big seller in the 1990's. A big part f the reason is they're made from 100% cheese with almost zero carbs. In the 1990's the Atkins Diet was a big craze. Just the Cheese was the perfect Atkins snack. The sales went downhill as the Atkins diet faded and they shelved it.
Fast forward to 2017 and David found himself munching on a similar product he picked up at a grocery store. He knew his product was better and he noticed a trend towards keto friendly snacks. That's when he and his wife went back to Wisconsin and started making cheese bars again. Connie, David's wife, handled the Amazon sales and quickly got them ranking for keto related search terms.
Just the Cheese bars are a very keto friendly snack. With only one gram of carbs, zero trans fats, and 75 calories per bar, the gluten free snack is a keto dieter's dream. Whether it's the cheese bars or the "minis," every snack is 100% crispy cheese. By mid 2018, the company was selling over 100 boxes a day. Now, they're everywhere online and they are growing. They source about three quarters of their cheese from local dairy farmers and they're poised to make an international splash, perhaps with a Shark's help.
My Take on Just the Cheese Bars
I actually remember these. We had them in our first apartment and I loved them. I remember being bummed when I couldn't find them anymore. In our family, we do an on and off keto diet – a month of keto diet followed by a month off. These snacks are great because they satisfy that craving for a crunchy snack without a lot of carbs.
I hope they become widely available, but in the mean time, I just ordered two twelve packs on Amazon. At $23.88 per twelve pack (two bars per package), it scrubs out to a buck a bar. I can't wait to eat these again! I am in.
**July, 2021 update** I received my initial order and now I buy them all the time. We go through three boxes a month in our house as my wife and I are on a keto diet and like Just the Cheese for its crunch.
Will Sharks Eat this Cheese?
David has a good business with a past proven track record. He's coming in with a $10 million valuation, so current sales need to be strong. The fact that the brand fizzled before won't impress the Sharks, but strong sales now will.
This is another product on this episode that's right up Dan Lubetzky's alley. David and his family know cheese and Lubetzsky knows branding and distribution. Other Sharks may bid too, but my money is on Lubetzsky.