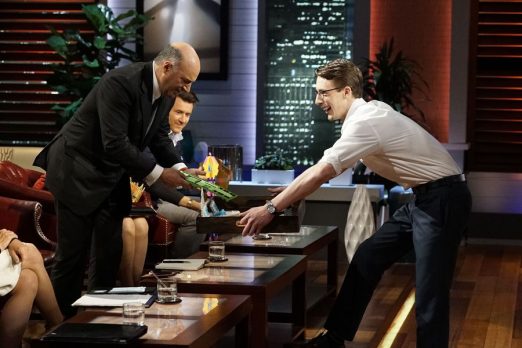 Ukrainian immigrant Vladislav Smolyanskyy  thinks Pin Block, his innovative new construction toy, could be the next big thing in the toy business. Essentially, the product is a plastic, interconnecting building block. All the blocks are the same size and connect with two pins.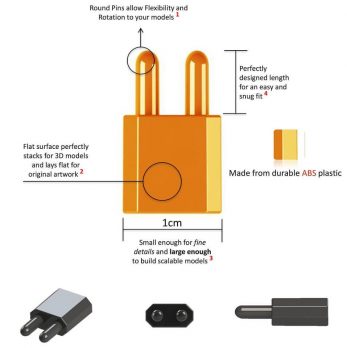 They come in a ton of different colors and there are instructions for building a wide variety of projects.
There are many "pre-made sets" that come with the appropriate colored Pin Blocks and instructions, but the beauty of the toy is its simplicity: all the blocks are the same shape and size. Vlad says this allows for a variety of building styles – three dimensional or 2 dimensional – that lets users create whatever they can imagine without the constraints of specialized pieces.
He enters a crowded field that includes the ubiquitous Legos, Mega Blocks, Shark Tank's own Qubits Construction Toys, and many more. While there is a big market, it's a tough one to crack with all the big players out there. He probably wants a Shark's help navigating the treacherous waters of the toy industry.
My Take on Pin Block
When I was a kid, we had Legos and regular, wooden building blocks. My brother and I would spend hours in our basement making all sorts of creations, including "cities" built around our model train set. Lego sold pre-packaged sets in those days, but we kept our Legos in a big bucket with all the pieces intermingled. Most of those Legos got handed down to our kids and I still have a bunch of them stored away.
My kids played with Legos, but I noticed in their generation, more emphasis was on pre-packaged sets with specific pieces designed to make a certain item. My son had a small fleet of Lego vehicles that, once he put them together, remained intact; he didn't want to "lose" the special pieces. That type of Lego building, while fun, takes away the value of the construction toy. I always thought it was more fun to invent something yourself out of Legos, that's why we kept ours in buckets.
Vlad shares my (mild) disdain for the pre-made set with specialty pieces. It takes the creativity out of the play. That's why his Pin Block toys is one pieces that allows for maximum flexibility. The sleek design and versatility takes people back to creating projects instead of just assembling them. Rounded edges also make it far less painful to step on Pin Blocks than Legos! For that reason, I am in.
Will Sharks Want to Play?
Anyone pitching a toy idea on Shark Tank inevitably hears Kevin O'Leary talk about "knowing the toy business." The other Sharks know the challenges of investing in a toy – particularly a construction toy; it's a tough market to crack. Mark Burginger got an on-air deal with Daymond in season one that never closed. In the seven years since that deal was made, he's grown QuBits into a solid product in the niche, but it was a long, hard road.
Going up against recognized brands with generations of fans is hard. The Sharks know this and it is the biggest objection PinBlock will face. That said, he grew the company from pure concept to a viable product in just three years. He's not looking for help with manufacturing or distribution because he currently makes the product and sells it online.
What Vlad needs is market penetration into the major toy retail streams, a landscape dominated by the big players. A Shark, particularly Mr. Wonderful, could help him with that. It will cost a lot of money and time to position the toy as a recognizable brand – something licensing the product to a big toy manufacturer could speed up. If he can sell Mr. Wonderful, he'll get a deal. Otherwise, it'll be back to the drawing board.