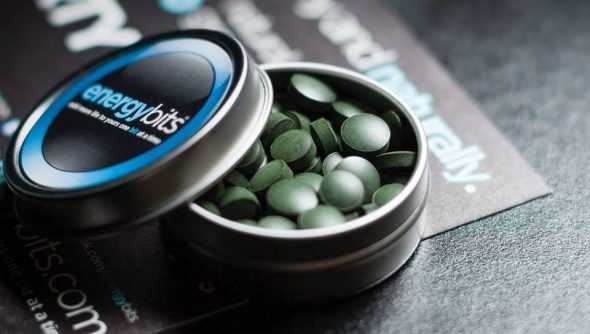 Catherine Arnston hopes the Sharks like algae when she pitches EnergyBits, her algae-based nutritional supplement tablets, in Shark Tank episode 810. Energy Bits are small algae tablets that you chew or swallow. They provide people with a high protein, high performance snack food that is 60% protein. All EnergyBits are 100% organic, 100% natural, 100% green, and 100% non GMO.
In the early 1900's, German scientists discovered algae had the highest concentration of protein in the world and could be used as food. Algae-based foods were used by Germany to prevent mass starvation after WWI and again by the Japanese after WWII.
Arnston started the business in 2008 to create a healthy, low-calorie snack. The product  gives athletes instant energy and endurance, stops hunger, helps with weight loss, helps prevent colds and hangovers, speeds muscle recovery for athletes, reduces high blood pressure, diabetes and other illnesses. The company is expanding nationally and internationally.
She likely wants a Shark to help with managing growth. Will the Sharks like algae?
Posts About EnergyBits on Shark Tank Blog
EnergyBits Company Information
Video

EnergyBits Shark Tank Recap
Catherine enters and immediately starts telling her story. Mr. Wonderful had to ask what she was looking for an investment. Catherine is seeking $500,000 for 5% of her business. She hands out samples and the Sharks, with the exception of Robert, don't like the taste.
When Mark questions the health claims, Catherine fumbles her answer. Then we get to the numbers. A large bag of 1000 tablets costs $40 to make and they sell for $115. In six years, she's done $1.5 million in sales. The previous year, she did $300,000 and made no money because she put everything back into the business.
Kevin says no investor is going to give her money because she isn't making any. He's out. Mark follows echoing the same concerns. Lori thinks the packaging is misleading so she's out. Both Daymond and Robert think she's irresponsible and Catherine leaves with no deal.
EnergyBits Shark Tank Update
The Shark Tank Blog constantly provides updates and follow-ups about entrepreneurs who have appeared on the Shark Tank TV show. As of June, 2023, this business is still up and running. They have their products available online and at Nieman Marcus stoes. The business has annual sales of $4 million. Apparently Catherine is taking a more responsible approach these days!