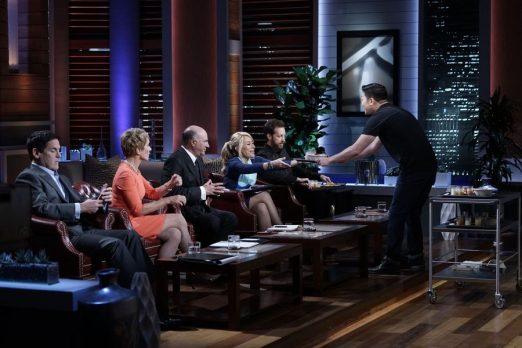 Billionaire Chris Sacca returns to the Shark Tank in episode 809. He's not wearing a cowboy shirt this time out and apparently he and Mark Cuban have a heated exchange. Mr. Sacca, along with the other Sharks, will evaluate 4 new businesses seeking an investment in their businesses. 10-year-old Jack Bonneau, along with his dad Steve, pitch Jack's Stands, a "chain" of lemonade stands run by kids looking to make a buck and learn about business. Melanie Disbrow seeks a Shark partner for Milk Snob, her patent-pending combination infant car seat cover and nursing cover. Jae Kim brings a little flavor to the Tank as he pitches Chi Lantro, his wildly popular restaurant and food truck business that features Korean/Mexican fusion cuisine. Real estate professional Junior Desinor wants a Shark to invest in Toor, his high-tech lockbox for real estate agents, sellers, and buyers that makes scheduling showings easier and more secure.
Who will the Sharks invest in tonight?
Back in season seven, Mark Cuban and Chris Sacca teamed up to invest $200K for 10% of Rent Like a Champion, the "AirBNB of College Weekend rentals." Expect a tailgate scene or two as we find out what kind of growth this business saw in the past year.
There are 28 Shark Tank Episodes for Season 8. This season features more appearances by Chris Sacca and a host of other surprises. Casting is currently closed, but it never hurts to get a head start on season nine! If you would like to appear on the show, check out our Auditions and Casting information.
Episode 809 – The Shark Investors and Entrepreneurs
The Shark Tank Episode 809 entrepreneurs will make their best pitch to the panel of five Shark investors who will use their own money if they choose to invest. The Shark Investors negotiate on the spot without any previous information, which differs from typical negotiations between venture capital investors and entrepreneurial start-ups.
Companies pitching the Shark Investors must go through a rigorous due diligence process before an on-air deal is completed. Shark Tank Blog follow ups help you keep track of the companies that end up successful and the ones that don't complete their deal.
Thank you for reading SharkTankBlog, the number one site for Entrepreneurs, Investors and Fans. Our content updates multiple times day, giving you the latest information on Episode 809, Season 8, and all other seasons and episodes.
Episode 809 Press Release
Episode 809 (11/11)
BILLONAIRE SHARKS ARGUE ABOUT A BUSINESS MODEL THAT CAN MAKE HOUSE HUNTING EASIER, AND A 10-YEAR-OLD PITCHES HIS LEMONADE STAND BUSINESS THAT HELPS OTHER KIDS FULFILL THEIR ENTREPRENEURIAL DREAMS,
ON 'SHARK TANK'
Silicon Valley Billionaire Investor Chris Sacca Goes Head-to-Head With Mark Cuban
"Episode 809" – A Dallas, Texas, real-estate broker's pitch leads to a battle of billionaires about his business model for a technology that makes house hunting more convenient; an impressive 10-year-old kidpreneur from Broomfield, Colorado, created a lemonade-stand business to help other kids start their own businesses while having fun and making money; fueled by her pursuit of the American dream, a mother from Allen, Texas, designs Made in America multi-functional covers for infant car seats; and the third "Shark Tank" tryout was the charm for a tenacious man from Austin, Texas, to get the chance to pitch the Sharks his Korean BBQ fusion restaurant food-truck business. Also, a follow-up with Michael Doyle and Thomas "Drew" Mitchell from Chicago, Illinois, and their weekend rental-home business, Rent Like a Champion, which Mark Cuban and Chris Sacca invested in during season seven, on "Shark Tank," airing FRIDAY, NOVEMBER 11 (9:00-10:01 p.m. EDT), on the ABC Television Network.
The Sharks in this episode are Mark Cuban, Kevin O'Leary, Barbara Corcoran, Lori Greiner and Chris Sacca.