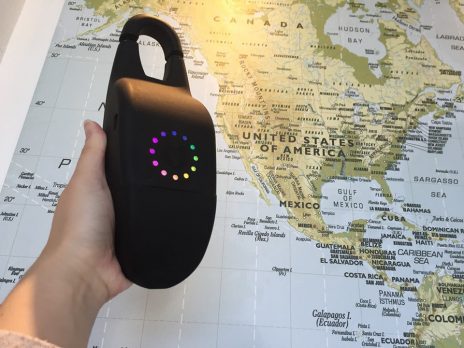 Junior Desinor wants to change the way people look for real estate with Toor, his smart lockbox that lets buyers, sellers, and agents efficiently schedule home tours, in Shark Tank episode 809. Traditionally, realtors controlled the homebuying process. Toor seeks to level the playing field by creating an interface between its smart lockbox and accompanying app.
Through the app, buyers can schedule home showings without a realtor present. If a seller requires a realtor's presence, the technology provides online, on demand scheduling. Since all users must register when getting the app, sellers know who's been in their home, when they were there, and how long they stayed. Sellers and realtors can also set specific showing times, eliminating unplanned showings.
The Toor app is great for realtors, too. It merges all local MLS listings, thus eliminating the need for multiple apps. Using the technology is proven to increase showings – a good marketing tool when realtors are soliciting listings. Desinor, a veteran real estate agent, got the business started when he raised $100,412 on Kickstarter in May, 2016. He pledges to make the lockboxes in the USA. He's finalized the design, but still hasn't produced any boxes.
He likely wants a Shark to help fund production and help make connections in the real estate industry. Will a Shark lock in to this business?
Toor Shark Tank Recap
Junior enters seeking $500,000 for 10% of his company. He tells his story and gives his pitch before asking Barbara to join him onstage. He demonstrates how it works then fields questions. Kevin wants to know what happens if a person doesn't return the key: the seller is notified. Lori expresses concerns about people on her property unescorted. The seller can require an agent.
Kevin asks about sales – the only sales he has is the Kickstarter. That's pre-sales of 800 boxes. They cost Junior $50 to build and he sells them for $199. Chris gets a little testy about whether this is new technology or not. Lori is the first Shark out saying it was "too early." Kevin offers $100,000 for 10% and a $400,000 at 18% interest. At this point, Mark says he doesn't know much about the real estate business and he goes out.
Barbara says she'd like to join Kevin on the deal contingent on getting the product in the hands of a large retailer. Barbara would provide introductions and let Junior sell it. At this point, Chris goes out. Junior counters with $250,000 for 10% plus a $250,000 loan. They eventually settle on $200,000 for 10% plus a $300,000 line of credit.
Toor Shark Tank Update
The Shark Tank Blog constantly provides updates and follow-ups about entrepreneurs who have appeared on the Shark Tank TV show. The deal with Barbara and Kevin never closed. Junior shipped his first boxes in 2018 and partnered with Touch of Modern. Things have been in limbo since then. Social media hasn't been updated since 2018 and you cannot order a unit on the website. The app hasn't been updated since 2019. In 2020, he opened a CBD  store in Dallas with his wife. He does still lists Toor as "open" on his LinkedIn page, but it doesn't look like he's selling any lockboxes. As of March, 2023, this status remains unchanged. Junior is still running a CBD  store in Dallas with his wife.
Posts About Toor on Shark Tank Blog
Toor Company Information
Video