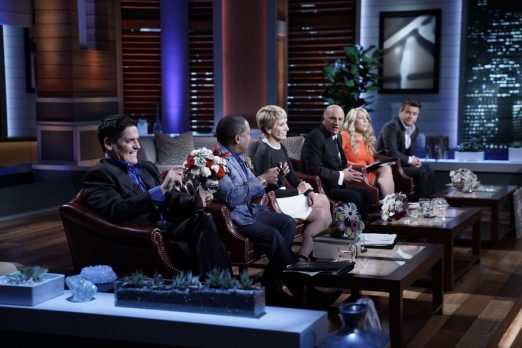 All six Sharks are back in the Tank for Shark Tank episode 808! Four new businesses now have an even better chance of landing an investment with one of the wealthy investors. Sean Wittenberg and Bryan Boches hope the Sharks like tuna when they pitch SafeCatch, their canned tuna company that tests each sustainably harvested fish for mercury with standards ten times stricter than the FDA. Teen pop star turned entrepreneur Hillary Novelle Hahn pitches The Style Club, a fashion brand aimed at teenage girls that partners with celebrities. Meagan Bowman hopes the Sharks stop and smell the flowers when she introduces EcoFlower, her line of floral bouquets made from wood and other recycled materials. Kaish Shaikh hopes a Shark invests money into #BeSomebody, his motivational community and app that allows users (called "passionaries") to create an "experience marketplace" by monetizing their area of expertise.
Which company gets a deal?
Mr. Wonderful invested in Wicked Good Cupcakes back in season four. It was one of his trademark "royalty deals" and one of his biggest successes to date. The business is a keystone of his "Something Wonderful" platform. They've had numerous updates, including a Beyond the Tank Segment. We'll see what else has happened to this Shark Tank success tonight.
There are 28 Shark Tank Episodes for Season 8. This season features more appearances by Chris Sacca and a host of other surprises. Casting is currently closed, but it never hurts to get a head start on season nine! If you would like to appear on the show, check out our Auditions and Casting information.
Episode 808 – The Shark Investors and Entrepreneurs
The Shark Tank Episode 808 entrepreneurs will make their best pitch to the panel of five Shark investors who will use their own money if they choose to invest. The Shark Investors negotiate on the spot without any previous information, which differs from typical negotiations between venture capital investors and entrepreneurial start-ups.
Companies pitching the Shark Investors must go through a rigorous due diligence process before an on-air deal is completed. Shark Tank Blog follow ups help you keep track of the companies that end up successful and the ones that don't complete their deal.
Thank you for reading SharkTankBlog, the number one site for Entrepreneurs, Investors and Fans. Our content updates multiple times day, giving you the latest information on Episode 808, Season 8, and all other seasons and episodes.
Episode 808 Press Release
Episode 808 (11/4)
THERE'S EVEN MORE BITE WHEN SIX SHARKS CIRCLE THE TANK ON THE FRIDAY, NOVEMBER 4, EPISODE OF THE AWARD-WINNING 'SHARK TANK'
The Sharks are Taken Aback to Discover an Entrepreneur Already Sold 75% of Her Business in the First Year; and the Sharks Hear a Pitch about a Revolutionary New Technology to test for Mercury in Every Single Piece of Fish.
"Episode 808" – A woman from West Haven, Utah, had to sell off 75% of her faux flower business in order to keep it alive; two men from Sausalito, California, pitch a technology to test mercury levels in a single piece of fish; a former corporate executive from Houston, Texas, has a platform to help people pursue their passions and brings in World Cup soccer winner Kristine Lilly and extreme sports expert Travis Brewer to convince them; and a millennial from Pittsburgh, Pennsylvania, is looking to finance her fashion brand geared toward the social media generation. Also, an update from Tracey Noonan and Danielle Desroches from Cohasset, Massachusetts, and Wicked Good Cupcakes, which Kevin O'Leary invested in during season four on "Shark Tank," airing FRIDAY, NOVEMBER 4 (9:00-10:01 p.m. EDT), on the ABC Television Network.
The Sharks in this episode are Mark Cuban, Kevin O'Leary, Daymond John, Barbara Corcoran, Lori Greiner and Robert Herjavec.