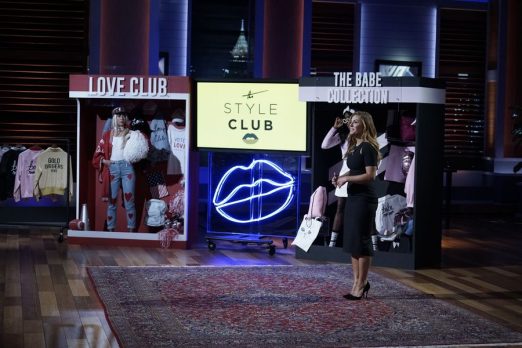 Hillary Novelle Hahn wants the Sharks to join her club – The Style Club – when she pitches her business in Shark Tank episode 808. Hahn is a fashion veteran who designed and sold a tween cosmetics line at age 16. She got her start while touring with Destiny's Child and Christina Aguilera as an opening act. She designed her own stage costumes and tour sponsor, Levi's Jean, made her the "Levis girl." She attended Columbia University and after graduating in 2007, she went on to be a fashion commentator for the Style Haul YouTube channel.
In 2014, she began The Style Club, creating custom, celebrity-themed clothing for teenage girls. She created a vibrant online community on various social media platforms. By partnering with celebrities teens like, she's able to stay current with their fickle fashion trends. Her goal is to be  "a one-stop-shop for creating flash sale, limited edition capsule collections with young Hollywood starlets."
The latest line of clothing, called Muse, is a limited edition collaboration with actress Kelli Berglund and celebrity stylist Adeel Khan. Most of The Style Club clothing is moderately priced jeans, jackets, sweatshirts, and hats. She plans to go on the road to interact with teens in small towns across America. She likely needs funds for her journey.
Will a Shark think this business is stylish enough and invest?
The Style Club Shark Tank Recap
Hillary will pitch the panel of five Sharks on the business and its prospects for growth. She'll need to convince Mark Cuban, Daymond John, Kevin O'Leary, Lori Grenier, and Robert Herjavec that the company is worthy of a Shark investment. A good business plan, good financials, and sales data will impress the Sharks, but she'll need to show them SHE is capable of running the company to "Shark standards." A full pitch re-cap on The Style Club will be available on Shark Tank Blog once this episode airs.
The Style Club Shark Tank Update
The Shark Tank Blog constantly provides updates and follow-ups about entrepreneurs who have appeared on the Shark Tank TV show. Once an episode has aired, we monitor the progress of the businesses featured, whether they receive funding or not and report on their progress. The Shark Tank Blog will follow-up on The Style Club and Hillary Novelle Hahn as more details become available.
Posts About The Style Club on Shark Tank Blog
The Style Club Company Information
Video