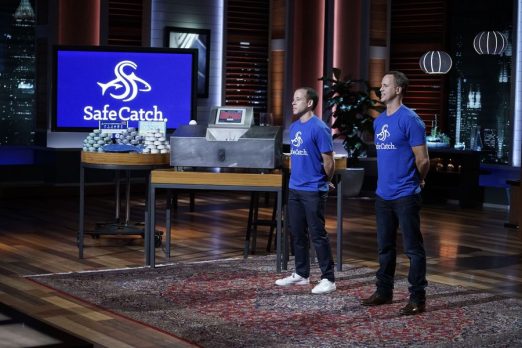 Sean Wittenberg and Bryan Boches hope the Sharks like tuna when they pitch SafeCatch, their sustainable, low mercury canned tuna, in Shark Tank episode 808. The entrepreneurs are childhood friends who wanted healthy, safe seafood for their families. They started SafeCatch to bring their vision to life: "bring safe seafood to moms and kids."
SafeCatch sources its tuna from fishermen who fish sustainable fisheries. They test every fish and only purchase tuna with low mercury content; their fish is ten times stricter than the FDA mercury action limit. There are no preservatives in their tuna – except salt in the "albacore with salt." Instead of processing the fish prior to canning, they cook raw tuna steaks in the can after packing; this retains more nutrients and makes for better tasting tuna.
They  started the company after Sean and his father tried marketing their testing services to fish processors. When they got a lot of rejection, Boches entered the picture and suggested they market their own brand directly. They figured if people were willing to pay more for healthy organic fruits and vegetables, why not market tuna the same way. After initially selling online only, they are now in Wegman's and a slew of small health centric grocery stores. They claim to have more retail chains in the pipeline.
Canned tuna is a $1.8 Billion per year market in the US, they hope to catch their fare share of that with SafeCatch. Sharks eat tuna in the wild, but will they bite in the Shark Tank?
SafeCatch Shark Tank Recap
Sean and Bryan enter seeking $600,000 for 3% of their business. They tell their story and hand out samples. The Sharks like it. Lori said she stopped eating seafood due to concerns about mercury. They say they want to make a safer, better way of eating tuna.
Each can costs $1.20 to make and it retails for $3-$4 per can. It's more expensive than brands you'd find in most supermarkets, but it's not as expensive as other premium tuna. They raised $14 million so far and they have $900,000 in debt, plus Brian put in $900,000 of his own money. They did $1.2 million the first year in business, but they're burning cash at a rate of $75,000 per month. The Sharks don't like this news.
Kevin doesn't like the numbers and is the first Shark out. Robert challenges their valuation and goes out. Barbara follows as does Daymond. Mark, citing the $75,000 monthly cash burn, is the next Shark out. Lori says she'll be a customer, but she's out too. No Deal.
SafeCatch Shark Tank Update
The Shark Tank Blog constantly provides updates and follow-ups about entrepreneurs who have appeared on the Shark Tank TV show. In February, 2018, the company raised another $5 Million and added more products to their line up: sardines, a new line of seasoned tuna using real spice blends, a new Ahi canned tuna and a new line of canned and pouched salmon.
As of May, 2023 the company is still in business. They are in over 12,000 stores nationwide. The company is the fastest growing seafood brand in the country and has over $5 million in annual revenue.
Posts About SafeCatch on Shark Tank Blog
SafeCatch Company Information
Video