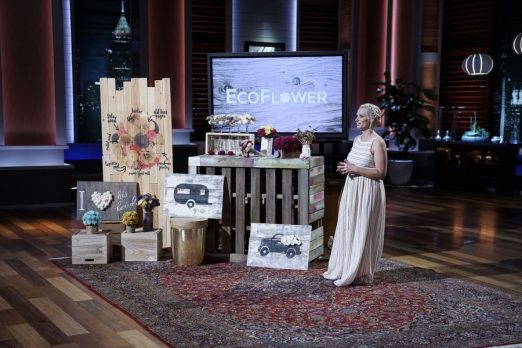 Meagan Bowman hopes to get an investment for EcoFlower, her wood and recycled flower business, in Shark Tank episode 808. Bowman got her start in the flower business as a teenager, selling flowers at local dance competitions. She did well, but hated losing the dying/dead flowers. One day, a friend brought her a wooden flower she got on vacation and the proverbial light bulb went off.
Meagan's dad helped her hand carve dozens of wooden flowers. They quickly sold out and the feedback was all positive. After graduating high school, Meagan went in another direction. Ten years later, her father asked her to give wood flowers another try and EcoFlower was born. Along with business partner Alex Ledoux, she began making and selling wood flowers and other bouquets made from recycled materials like book pages, brooches, burlap, music sheets, pallet wood, pine cones, and sola wood.
Each bouquet has scents infused and the flowers last forever. Bouquets cost $39-$59 and a centerpiece will set you back $139. Her prices are equivalent to fresh flower bouquets, but they are permanent. Her Utah based business operates out of an 8,000 square foot warehouse and employs 30 floral designers. Bowman likely needs cash to fuel growth. Will a Shark like the smell of these flowers?
EcoFlower Shark Tank Recap
Meagan enters seeking $400,000 for 10% of her business. She tells her story and she speaks of how people are tired of fresh flowers – they want something lasting. Next, she hands out bouquets to each Shark. They're impressed with the products. Robert asks Lori and Barbara what they'd think if they got a wooden flower bouquet. Barbara said she wants to feel precious, like a real flower and Lori agrees. 
When they get down  to talking money, the Sharks are impressed. She's done $2.8 million in sales in a year and a half. A typical bouquet costs about $59.00. She needs a Shark to help with production. She has to hold her marketing team back. A typical day sees anywhere from $6000-$13,000 in sales. She reveals she has investors who own 75% of the business. When Kevin asks how she wouldn't be wiped out if a Shark invested, she says each shareholder would kick in a portion of their shares.
Robert says Meagan doesn't control the business, so he's out. Barbara spends a lot of money on flowers and likes the real thing. She's out. Lori agrees with Barbara and goes out too. Mark says it's not his thing and he's out. Neither Kevin  nor Daymond can get past the diluted ownership and they both go out too.
EcoFlower Shark Tank Update
The Shark Tank Blog constantly provides updates and follow-ups about entrepreneurs who have appeared on the Shark Tank TV show. Unbeknownst to viewers or Sharks, one of the other three partners voluntarily left the business a few weeks before the episode aired. This left Meagan with 33% of the business and the other two (who were a Venture Capital firm) with 66%; she no longer had an equal say in the business. Meagan herself gives a great explanation of what went down and made her walk out on the company she built HERE.
About a year and a half after Meagan walked out, the company closed its doors in April, 2018. Luckily for Meagan, she started Sola Wood Flowers and the company has no debt, no partners sucking cash out and solid sales. As of May, 2023, Sola is doing great with $5 million in annual revenue.
Posts About EcoFlower on Shark Tank Blog
EcoFlower Company Information
Video