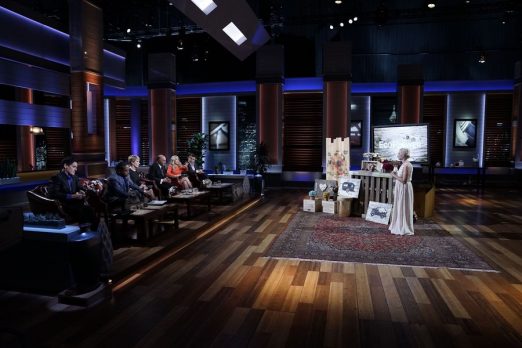 Meagan Chapman Bowman hopes to resurrect a business she started as a teen when she pitches Eco Flower, her wood and recycled flower business, to the Sharks in episode 808. Bowman was always traveling to dance competitions as a teen and decided to start selling flowers at the events so parents could give flowers to their dancers. She did OK, but didn't like it when her inventory died, so she sought another solution.
Along with her dad, she began making realistic looking wooden flowers. They sold well at the dance competitions and they didn't die. People loved them! Once she graduated high school, Meagan went in another direction and opened French Kiss Fitness, a dance and fitness studio that taught pole dancing. That business started out in 2006 and shut down in 2013.
While exploring her next step, her father urged her to re-visit the wood flower business and Eco Flower was (re)born in 2013. She originally made flowers in her garage, but in 2014 she applied to Shark Tank and got rejected. That episode led her to business partner Alex Ledoux and venture capital investor. She now sells internationally and ships from a 8000 square foot warehouse.
Sales are all online. Eco Flowers are made from recycled materials like book pages, brooches, burlap, music sheets, pallet wood, pine cones, and sola wood. Each bouquet comes scented and costs $40-$60. That's about the same as a bouquet of fresh flowers! She likely wants a Shark's help with expanding – she wants to be the next 1-800-FLOWERS.
My Take on Eco Flower
My first introduction to Eco Flowers was last summer when my oldest daughter, who is planning for her wedding in 2017, showed me the website. This was before I even knew Eco Flowers was appearing in season 8. I thought it was a neat idea and gave the thumbs up.
Let's face it, at $40 a dozen (or much more) for a bouquet of roses, flowers can get expensive. And they only last for a week or two. A wooden flower bouquet is like a piece of art you can keep forever. It makes so much sense to me. My daughter informed me she was ordering bridal bouquets from Eco Flowers for her wedding when I told her about the Shark Tank connection. For that reason, I'm in.
Do Sharks get wood over these flowers?
I think anyone who sees Meagan's flowers will become an instant fan, including the Sharks. Getting them to like the business may prove more difficult. The ABC press Release for episode 808 states "the Sharks are taken aback to discover an entrepreneur already Sold 75% of her business in the first year."
This could spell trouble for Meagan. It shows the Sharks that they won't have enough skin in the game. If Meagan only controls 25% of her company, the Sharks aren't going to get enough of the business to make it worthwhile. I'm thinking no deal on this one.