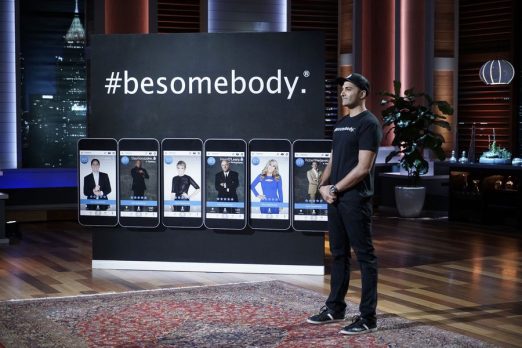 Kash Shaikh hopes to inspire the Sharks to invest in BeSomebody, his motivational app that connects people with similar passions, in Shark Tank episode 808. Shaikh, a former Proctor and Gamble marketing executive and former director of global communications and social media for camera maker GoPro, started the business in 2012 to create what he calls an "experience marketplace." The idea is, through the app, you find people in your area who have a skill you wish to develop, and you pay them, through the app, to share their experience with you. Shaikh calls people who use the BeSomebody app "passionaries."
He first got the idea in 2009 while writing a blog called "Be Somebody" as he traveled the world with P&G. The hashtag #besomebody and the blog grew and now reaches nearly 5 million people in 180 countries. By creating a community, he was able to allow app users in Austin, Texas to earn nearly $100,000 teaching people about their area of expertise or passion.
With $2 million in seed funding, he's hoping to make BeSomebody an educational platform, allowing people to share both passion and knowledge with each other. As Shaikh says: "it allows members to live, share and monetize their passions so that it becomes more than just a hobby for them."
A technology app with such bold plans needs funding to grow. Will a Shark want to #BeAnInvestor?
BeSomebody Shark Tank Recap
Kash enters seeking $1 million for 10% of his business. To demonstrate, he has world famous ninja Travis Bruer come in to give Robert a "ninja lesson." Then Bollywood dancers enter to give "dance lessons." Finally, Olympic soccer champ Christine Lily dribbles into the Tank for a soccer lesson. The Sharks are wowed by the presentation.
Kash goes on to tell his story about how he started the business. He demos the app and Barbara asks about pricing. When someone books an experience, Kash takes 20% of the cost. He says the average experience is $40. The Sharks appear skeptical and Kash says he has 5 million followers for his trademarked hashtag #besomebody. To date, he's organized 2000 meet-ups.
The Sharks have many concerns, including liability and exclusivity. Mark is super annoyed and is the first to go out. Barbara says Kash is abrasive and she goes out. Robert doesn't understand the business- he's out. Lori says thiis is just another app that isn't going to make it, she's out. Daymond is too concerned about liability and he goes out. Kevin says Kash blew it – he was pitching to six Sharks and he couldn't sell one. He's out.
BeSomebody Shark Tank Update
The Shark Tank Blog constantly provides updates and follow-ups about entrepreneurs who have appeared on the Shark Tank TV show. Kash sold the app to a company called Utivity Holdings in February, 2017 – less than two months after the original air date – for an undisclosed amount. Utivity shut down in January, 2018.
Less than four years later, he continued to use Be Somebody as a business, but now he does corporate training using  "AI-driven candidate matching and curriculum building software."  According to a PR Newswire press release, "in 2019, Besomebody, Inc. was named one of America's top private companies by Entrepreneur Magazine with nearly $20 Million in yearly revenue."
In April, 2020, he announced the formation of BSB Group International, "a new company formed to fully service its expanding client list of Fortune 500 companies and fast-growing startups." The company offered free marketing services to Cincinnati area businesses negatively effected by the Covid-19 pandemic. BSB Group has offices in Cincinnati, New York, Houston, and Minneapolis. As of May, 2023, BSB still has annual revenue of $20-$25 million.
Posts About BeSomebody on Shark Tank Blog
BeSomebody Company Information
Video