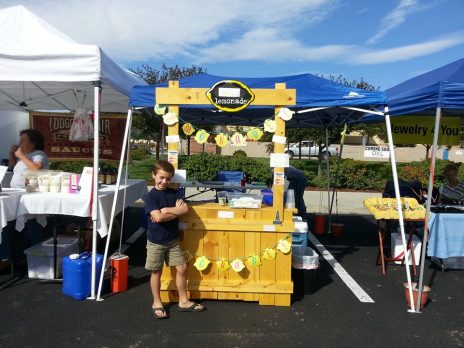 10-year-old Jack Bonneau pitches Jack's Stands, his lemonade stand "franchise" concept, to the Sharks in Shark Tank episode 809. When Jack approached his parents about opening a lemonade stand 2 years ago, they developed a more professional strategy than the standard table at the end of the driveway. Jack's dad helped him set up at a local farmer's market. Jack netted $900 on about $2000 in sales his first summer.
Year two found Jack expanding to 3 additional farmer's markets after getting a business loan for $5000 from Young Americans Bank, a Denver bank that specializes in loans to children. He staffed his stands with other kids looking to make a few extra bucks. He trained them on interacting with customers and making change and showed them how to calculate profits at the end of each selling day. For their efforts, the kids got a cut of the profits and their tips. The second year of operations grew sales to $25,000.
The process gave Jack an education in math, business, and finance. His father, Steve Bonneau, wanted the Jack's Stands experience to teach Jack about business. It did. Jack's Stands is expanding to more markets in his native state of Colorado and a stand in Detroit. He tried raising expansion funds on IndieGoGo, but fell short of his goal. He managed to team up with other kidtrepreneurs, including Shark Tank alums Moziah Bridges (Mo's Bows) and Ryan Kelly (Ry's Ruffery) to offer perks.
With the IndieGoGo funding falling short, Jack likely needs funds for expanding nationally. Will a Shark take a stand and invest in Jack's Stands?
Jack's Stands Shark Tank Recap
Jack and his dad enter the Tank seeking $50,000 for 10% of the business. He tells his story, then fields questions. Jack tells the Sharks he currently has 7 stands with other kids running them for him. He has two mall locations and the rest are either at farmer's or crafter's markets. The mall locations cost 15% of revenue and those two netted $15,000 in three months.
Total sales for the year are projected at $150,000 and the Sharks laugh when he says he's predicting $1 million in sales next year. The Sharks are all impressed with Jack, but Mr. Wonderful doesn't want the kid to quit school; he goes out. Jack tells the Sharks he started his business with a $1000 loan from his parents which he paid back. He also took out a $5000 bank loan which is 60% paid off.
Mark says he doesn't think Jack can support the people outside of Denver, so he goes out. Barbara goes out too, as does Lori. Chris said there's no way Jack is leaving without a deal. He offers to loan him $50,000 at 2%, but he can only borrow $10,000 at a time. Once the $10K is paid off, they reassess and he can draw down more. Jack accepts!
Jack's Stands Shark Tank Update
The Shark Tank Blog constantly provides updates and follow-ups about entrepreneurs who have appeared on the Shark Tank TV show. Jack ran into difficulties with locations not allowing kids to open stores, so he worked with local youth organizations who wanted to champion kids' entrepreneurship as sponsors for locations. Jack's Stands is now a non profit, but he claims there are kids who've earned tens of thousands of dollars running his stands.
In 2018, Colorado based restaurant chain Good Times started placing Jack's Stands in their restaurants to give kids an opportunity to sell lemonade in their stores. He hopes to develop his own brand of lemonade going forward.
In 2019, he started TeenHustl, a "hyper-local" delivery service where teens deliver packages from a secure location to customers' homes on their bikes or skateboards or cars. Think of it as DoorDash for packages. There are two operating territories for TeenHustl, one in Broomfield, CO and one in Denver. He claimed to be expanding nationwide in 2021, but as of November, he had not. In 2020, he faced the same challenges many businesses faced, but Jack won the US Chamber of Commerce Dream Big Young Entrepreneur Achievement Award.  As of November, 2021, there are still 7 permanent stands. As of August, 2023, Jack's Stands and his other business are operational and profitable.
Posts About Jack's Stands on Shark Tank Blog
Jack's Stands Company Information
Video