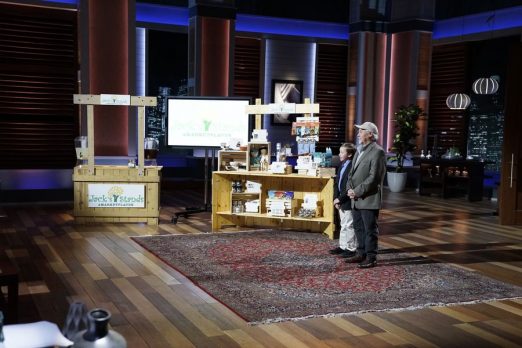 Nothing embodies American entrepreneurship than the thousands of lemonade stands that pop up every summer. A kid selling lemonade shows the spirit of entrepreneurship is alive and well. Unfortunately, some of these kids get shut down by local authorities who enforce health codes. Most ten-year-olds don't know the ins and outs of business licenses and health codes, that's where Jack's Stands comes in.
Ten year old Jack Bonneau has a solution. Along with his dad, Steve, he created a business opportunity for all those mini lemonade entrepreneurs out there. When Jack wanted to sell lemonade, Steve made it a learning experience. He educated him about cost of goods, profit margins, permitting, and more. The result was Jack got set up in a local farmers market his first year in business and earned around $900 profit on $2000 in sales his first summer.
The second year in business, Jack opened three additional lemonade stands at local farmers markets and employed other kids to staff some of them. He did it with a $500 loan from Young Americans Bank, a Denver bank that specializes in loans to kidtrepreneurs. That second summer saw sales grow to $25,000, which sparked the idea for the business.
What Jack does is train other kids to run his lemonade stands. He guarantees a "a safe, authentic marketplace with lots and lots of customers during the busiest shopping time of the year.  Learn about business, entrepreneurship, financial literacy, while making a bit of money and having fun!" In exchange for setting everything up, Jack gets a cut of the business and the kids running the stands make (on average) $30-$50 while learning about business.
Jack likely wants a Shark to help him expand nationally. Do Sharks drink lemonade?
My Take on Lemonade Stands
I had several lemonade stands as a kid and whenever I pass one now, I stop and buy a cup. I like it when kids take some initiative to try to earn money. This summer, my daughter had a golf ball stand. She collected golf balls from the ocean (there's a golf course near the beach we go to), cleaned them up, and sold them for 50 cents each at the side of the road on the way to the golf course. She made $60 in one day!
Any kid who wants to do something like this needs encouragement. Locating in a farmers market is a lot more professional than a card table and pitcher at the end of the driveway. I like that Jack's Stands teaches kids other aspects of running a business – even a simple one like lemonade stands. For that reason, I am IN.
Do Sharks Drink the Lemonade?
Sharks and viewers alike are going to LOVE this kid. He's doing well for himself while helping other kids and everyone is going to love it. This is the feel good pitch of episode 809. Jack likely wants to grow this nationally, something a Shark can help with.
The problem Jack has is sales. While $25000 in sales is AWESOME for a 10-year-old kid, it's peanuts to the Sharks. Jack will likely create some relationships with the Sharks, but he'll leave without a deal.