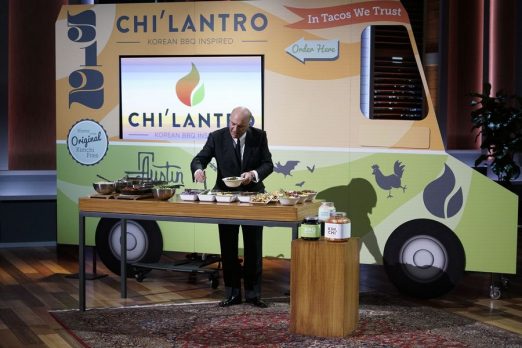 Jae Kim hopes the third time is the charm when he pitches his ChiLantro food truck in Shark Tank episode 809. Kim tried out for the show three times  and finally made the cut in season eight. He also appeared in the Food Network's Great Food Truck Race in 2010.
Kim was busy in 2010. He started his business with one truck, selling Korean/Mexican fusion food to a hungry Austin, Texas crowd. The ChiLantro Kimchi Fries are a top seller. Since 2010, he built on his initial success, opening 4 brick and mortar restaurants and growing a vibrant catering business.
Korean/Mexican fusion food first appeared in California around the year 2000. Korean style barbecue wrapped in tacos and burritos became popular there and Kim brought the concept to Texas. Growing a food truck business to four restaurants is no small feat. It's obvious the food is good and the business is sound.
Kim might have his eyes on a national rollout, something a Shark can help with. Will Sharks like ChiLantro's food?
My Take on ChiLantro
I never ate here, so I can't speak to the food, but reviews are unanimous: it's good stuff. For six years, I owned and operated a Hot Dog Truck. This was before the food truck craze that swept the nation. It was a good business and a lot of fun. It was hard though. There were long days and lots of big crowds. It was challenging finding help and staying busy with catering gigs. I can appreciate and admire how Kim grew his business because I know what a tough business it is.
Hot dogs and Korean/Mexican fusion are worlds apart. One thing is similar: in order to succeed (or even stay alive) in the food truck business, you need to serve consistently good food. Kim did this with dishes far more complex than hot dogs, burgers, and chili. He grew his business by offering something unique, making good food, and growing with increased demand. For that reason, I am IN.
Do Sharks like Kim Chi?
Two food businesses did very well after partnering with Sharks. Both involved Barbara Corcoran, who isn't on the panel. Tom and Chee did a deal with Barbara and Mark and franchised aggressively, growing to over 30 stores in a few years. Barbara also invested in Cousins Maine Lobster, which opened a brick and mortar store and started shipping live lobster. Both businesses are doing very well.
Kim likely wants to grow his business in a similar fashion. He has proof of concept and he has consistently growing sales – two things Sharks will like. If he has a sound valuation and a good plan, he will field an offer. I predict Mr. Wonderful and Chris Sacca will battle it out for ChiLantro.