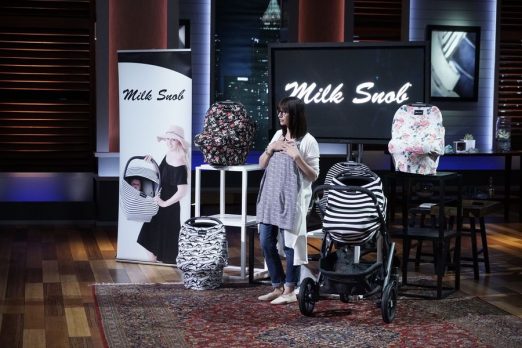 German born entrepreneur Melanie Disbrow created MilkSnob when she couldn't find a product that suited her needs. She wanted an infant car seat cover that performed multiple functions. A car seat cover keeps sun off babies' sensitive skin, so it's something a lot of mothers want. MilkSnob also doubles as a skirt-like nursing cover that allows moms to breastfeed without embarrassment or causing a scene.
She used social media to build her brand and the constantly updated designs keep moms coming back for more. She originally made the products on her own, now she has a team helping her churn out products. Everything is made in her new hometown of Dallas, Texas. Moms love the product, but will the Sharks?
My Take on MilkSnob
As a father of five, I've seen countless baby blankets, gadgets, and accessories over the years. I also witnessed a lot of breast-feeding, both at home and in public. My wife used a blanket to cover-up when breast-feeding and it seemed to work just fine. We had car seat covers, but they didn't do double duty like Milk Snob.
I certainly won't use this product, and neither will my wife; we're out of production and into maintenance! Based on the people who review the product, it seems well received. Moms and people who buy gifts for them are always looking for something useful and unique; this product fits the bill. For that reason, I am IN.
Do Sharks feel multi-functional?
Melanie could come into the Tank with YUGE sales and a great valuation, but the Sharks aren't going to bite. Unless she has other products in the wings, the Sharks will repeatedly come out with the "it's a product, not a business" rebuttal. Lots of moms will see this and buy it, but the Sharks won't.