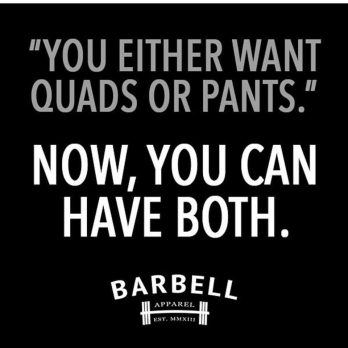 Karl Workman created Barbell Apparel for people with big quads. Whether you are a serious weight lifter, bicyclist, or other athlete with muscular quads, you probably have a tough time finding jeans and pants that fit. This is why he set out to make pants for those types of people. Over a series of Kickstarter campaigns that raised over $1 million, Workman got his idea off the ground and into the hands of eager consumers that saw his designs as an answer to their prayers.
He started Barbell with jeans and, most recently, introduced the TAKTEK Pant – a business casual looking, "performance" pant that has anti-wrinkle properties, "360 degree stretch," odor control with moisture wicking, hidden pockets, a sunglasses holder, built-in bottle opener, and more. He plans on selling the TAKTEK, which is made in the USA,  for $149.
Barbell is only 17 days away from getting TAKTEK funded on Kickstarter. Just five days before their air date in Shark Tank episode 810, they'd tripled their ask of $35,000. Currently, Barbell Apparel is available online from their website or Amazon. The TAKTEK is available on the Kickstarter page on a pre-order basis. Workman likely needs a Shark to help with growth, getting into retail, and sourcing manufacturing. Do the Sharks wear pants?
My Take on Barbell Apparel
I'm no bodybuilder by any stretch of the imagination, but the TAKTEK pants look cool (they had me with "built-in bottle opener"). I know some guys who are very muscular and they have trouble finding pants that fit, so it seems they've tapped a good niche. As a non-bodybuilder, I think I'd still wear them – on occasion, though they are a bit pricey. I don't wear a lot of long pants though.
I like that they make them in the USA – too many clothes we buy in this country come from overseas. The problem is, when you buy American, you always pay more. That equation seems backwards. Nonetheless, if you need this kind of fit, there aren't many options. For that reason, I'm in.
Do Sharks see a good fit?
Whenever a clothing company comes into the Tank, Daymond is the obvious target, even though other Sharks invested in clothing companies. Workman needs to push the fact that he's raised over $1 million on Kickstarter. That shows there's interest in the product.
He'll need a good plan for growth though. The pants are very niche and Sharks tend to like products with broad appeal. Whatever the value proposition is, I don't think they get a deal. There isn't any mention of their appearance on their website or social media. That's usually a sign of leaving the Tank without a Shark as a partner.