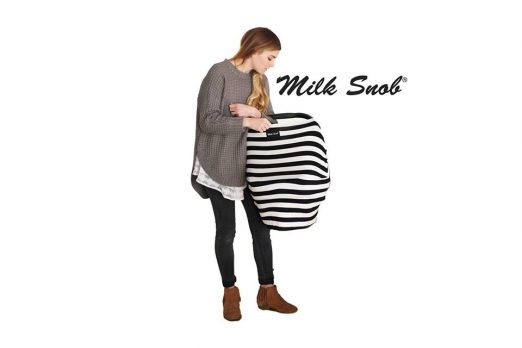 Melanie Disbrow introduces the Sharks to Milk Snob, her multi-functional infant car seat cover and nursing cover, when she pitches her business in Shark Tank episode 809. Disbrow, who immigrated to the USA from Germany in 2006, is the mother of three small children. When she went searching for an infant car seat cover, she couldn't find a product that met her style ad functionality criteria; that's when she decided to make her own.
That incident led to the invention of Milk Snobs. It's basically a little tent that goes over and infant car seat to keep baby out of the direct sun or rain. When it's time to feed, it serves as a nursing cover for moms while they breast feed. Her product is patent pending.
Milk Snobs come in a wide variety of patterns and colors; Melanie is constantly adding new designs to keep things fresh. She also sells swaddle blankets. A Milk Snob cover costs $36 and a swaddle blanket is $18. Reviews are unanimously positive for Milk Snob – moms everywhere LOVE it.
Melanie likely wants a Shark to help her expand into retail. Will a Shark bite?
Milk Snob Shark Tank Recap
Melanie enters seeking $125,000 for 5% of her business. She tells her story and hands out samples. Kevin wants to know the numbers. She did $1.2 million in sales over the previous 18 months – $800,000 in the past 5 months. They cost $7.60 to make and they sell for  $36. She says she needs a partner to help her get into retail.
Chris offers $125,000 for 8% contingent on him taking two home with him that day. Mark urges her to take the offer before going out. Lori offers $125,000 for 10%. Kevin jumps in and tops  her, offering $150,000 for 10%. Melanie asks if Lori and Chris would partner, and they agreed to but Chris drops out after some back and forth. Kevin goes out too because Melanie was ignoring him. Melanie then asks Lori if she'd go to 8% but Lori counters with $150,000 for 10% and they do the deal.
Milk Snob Shark Tank Update
The Shark Tank Blog constantly provides updates and follow-ups about entrepreneurs who have appeared on the Shark Tank TV show. The deal with Lori never closed and the company doesn't appear on her website. Since airing, Melanie moved the business to the Dallas area. Over the years, they added baby blankets and sleeping bags to the line. They did a licensing deal with Disney in 2018 and later added Jeep, Star Wars and Harry Potter themed merchandise. The company also added a one piece, silicon pacifier that doubles as a teether in 2020. As of February, 2023, the company is still in business and it's doing $6 million in annual revenue.
Posts About Milk Snob on Shark Tank Blog
Multi Function Car Seat/Nursing Cover
Milk Snob Company Information
Video