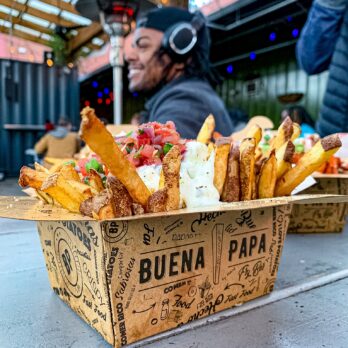 Meet James and Johanna Windon, the dynamic husband-and-wife team behind Buena Papa Fry Bar, a culinary gem that has been delighting taste buds since its founding in 2021 in Raleigh, N.C. Buena Papa, which translates to "Good Potato" in Spanish, is more than just a restaurant; it's a labor of love and a celebration of culture. They'll be pitching their franchise concept restaurant to the Sharks in episode 1505.
James and Johanna's journey to Buena Papa began during the challenging times of the COVID-19 pandemic when they temporarily had to close down their cleaning business. It was during this period of reflection that they decided to embark on a new venture, one that would bring a piece of Johanna's native Colombia to their community and beyond.
Drawing inspiration from the vibrant and diverse Colombian culinary scene, Buena Papa Fry Bar was born. Their mission is simple yet profound: to bring families, friends, and entire communities together through the power of food and culture. They believe that sharing delicious dishes with a french fry themme from different corners of the world can bridge gaps and foster a sense of unity and understanding.
Buena Papa means "Good Potato"
At Buena Papa Fry Bar, it's all about the humble potato, transformed into mouthwatering creations that pay homage to Colombian and international cuisine. But the Buena Papa experience doesn't stop at the food. James and Johanna have created a warm and welcoming atmosphere where everyone is treated like family. Whether you're a regular or a first-time visitor, you're sure to feel the love and passion that goes into every dish. They hope to grow that love through franchising.
Buena Papa Fry Bar is more than just a place to eat; it's a destination for those seeking not only fantastic food but also a sense of belonging and cultural discovery. So, if you're in Raleigh, N.C., or planning a visit, be sure to stop by and experience the magic of Buena Papa for yourself. Your taste buds will thank you, and you might just leave with a newfound appreciation for the power of good food to bring people together.
My Take on Buena Papa Fry Bar
One of my favorite dishes is Poutine. It's fries, cheddar cheese curds and beef gravy. We have once a month or so as a treat. The dishes at Buena Papa Fry Bar look delicious. I'm particlarly interested in the Greek Signature Fries with grilled chicken, Tzatziki and pico de gallo. The next time I'm in Miami, I'm going to check it out.
Will the Sharks Like Fries?
With Barbara sitting on the panel tonight, I'd expect an offer from her. She'll undoubtedly cite her past franchising successes when she makes an offer. Mark could bid too as he's invested in several franchise concepts as well. I don't expect offers from Lori, Robert or Kevin