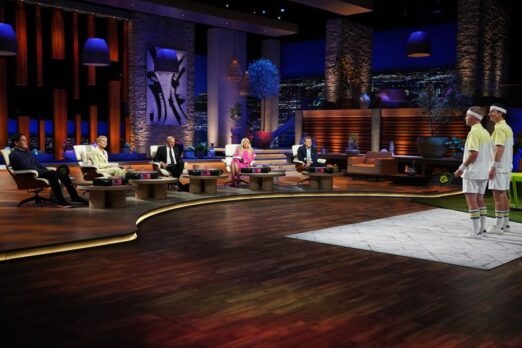 Mark, Barbara, Kevin Lori and Robert are the Sharks swimming in episode 1505. Together, they'll hear pitches from four new businesses seeking cash and a Shark's mentorship. Will the Sharks be biting tonight?
James and Joanna Windon hopes the Sharks bite on Buena Papa ("good potato " in Spanish), their franch fry bar with international flavors they want to franchise. Fashion designer and entrepreneur Maria Agapkina hopes to find the right fit for Monosuit, her line of futuristic jumpsuits for men and women. Ilana Mobely-Karcinski and Kelly Nova pitch Fairytale Pet Care, their franchised service that helps couples include their pets in their wedding. Tim Swindle and Scott Brown hope to hit it out of the park with PaddleSmash, their new game that combines Pickleball an Spikeball. Who catches a Shark tonight?
In season 10, Guest Shark Jamie Siminoff invested $00,000 for 20% of Moink, a sustainable, family farm based meat subscription service. Tonight we'll see how far thay've come.
The Sharks
---
Barbara Corcoran
Robert Herjavec
There are 26  Shark Tank Episodes for Season 15. This season features the six "regular" Sharks: Mark, Daymond Kevin, Lori, Barbara and Robert. There are three new guest Sharks for season 1: Jason Blum, CEO and founder, Blumhouse; Michael Rubin, chairman and CEO, Fanatics; and Candace Nelson, founder of Sprinkles Cupcakes, founder of CN2 Ventures, and co-founder of Pizzana. The returning "recurring Sharks" are  Emma Grede, CEO and co-founder of Good American, and founding partner of SKIMS; and Daniel Lubetzky, founder of KIND Snacks. Casting is currently closed, but it never hurts to get a head start on season sixteen! If you would like to appear on the show, check out our Auditions and Casting information.
Episode 1505 – The Shark Investors and Entrepreneurs
The Shark Tank Episode 1505 entrepreneurs will make their best pitch to the panel of five Shark investors who will use their own money if they choose to invest. The Shark Investors negotiate on the spot without any previous information, which differs from typical negotiations between venture capital investors and entrepreneurial start-ups.
Companies pitching the Shark Investors must go through a rigorous due diligence process before an on-air deal is completed. Shark Tank Blog follow ups help you keep track of the companies that end up successful and the ones that don't complete their deal.
Thank you for reading SharkTankBlog, the number one site for Entrepreneurs, Investors and Fans. Our content updates multiple times day, giving you the latest information on Episode 1505, Season 15, and all other seasons and episodes.
Episode 1505 Press Release
The Sharks are presented with investment opportunities that include a portable outdoor game that combines pickleball and Spikeball, a pet-sitting service for weddings and events, a high-fashion bodysuit and gourmet made-to-order French fries