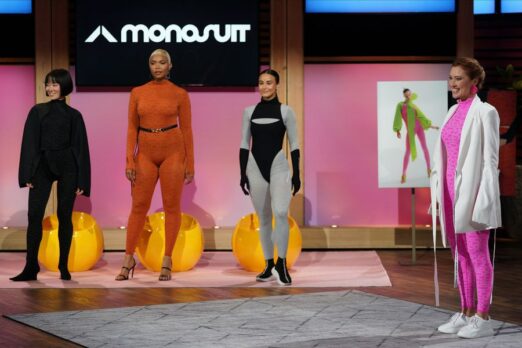 Maria Agapkina hopes to find a fit for Monosuit, her line of one piece jump suits, in Shark Tank episode 1505. The suits are all the rage in the New York fashion scene and worn by many celebrites like Madonna, Paris Hilton, the Kardashians and many more. Maria was inspired to create the futuristic looking suits by the concept of interplanetary travel.
There are three things that set Monosuit apart. One is their ECONYL® regenerated yarn which is made from recycled plastic. Two, the company uses a circular knitting process to give the suits a seamless look. Three is the patented "novel zipper technology" that allows for the hidden zippers to easily open for bathroom trips.
Monosuit is a global brand that makes suits for men and women. They also make Monoskins, a tighter, more yoga-pant like suit, dresses, tops, bottoms and accessories. Their inclusive sizing lets the customer customize their suit to fit their body type. New designs come out each year. The suits range from $280 to over $600 depending on the style and are available exclusively on their website. Maria likely wants a Shark to help with marketing and customer acquisition.
Company Information
Video

Posts about Monosuit on Shark Tank Blog
MonoSuits: Blending Fashion and Functionality
Monosuit Shark Tank Recap
Maria enters the Shark Tank dancing and singing and dancing about her jumpsuits. The song emphasizes the special zippers, the recycled materials, how she cleans the ocean and how she's a green business. Lori likes the suits and says they're "so me." Maria asks for $150,000 for 5% of the business.
The Sharks examine their samples and Lori comments on the secret zippers. Maria explains she has a patent for the zipper design and demonstrates how it works. They also make sneakers, sleeves, dresses and gloves. A suit is $290 and it costs $60 to produce it. The suits are made from recycled ocean waste. She was born in a small village in the USSR and began upcycling clothing as a child.
Sales for the past year were $245,000 and they did that without advertising. Robert wants to know if it's a fashion line or a jumpsuit company. Maria says the core of the business is the technology. The jumpsuits account for 70% of sales. In 2018 she raised $2 million from angel investors at a $12 million valuation. The money was used to develop the technology and the first two lines. She asks customers to recycle their suits when they're done with them.
Who's In?
Mark says the challenge is she has 3 businesses: an eco-friendly business, a technology business and a fashion business. For Mark, it's hard because they're all expensive and require a special focus. He doesn't see how to pull all the pieces together in a way that's affordable; he's out. Kevin thinks the business is all over the place and Maria should focus on the jumpsuits; he's out. Robert doesn't know what business she's in; he's out. Barbara thinks she's all over the place; she's out. Lori loves what she's created, but thinks she thinks $150,000 is nothing compared to what Maria is going to need; she's out.
Monosuit Shark Tank Update
The Shark Tank Blog constantly provides updates and follow-ups about entrepreneurs who have appeared on the Shark Tank TV show. After the show, Shark Tank fans on social media called the pitch "cringe worthy."
The Shark Tank Blog will follow-up on Monosuit & Maria Agapkin as more details become available.