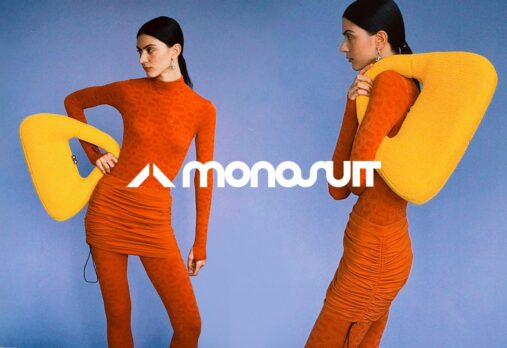 In the bustling world of fashion, where trends come and go with the seasons, MonoSuits emerges as a breath of fresh air, combining innovative design with a dash of interplanetary inspiration. Founded in 2018 by the visionary Mia Murr(aka Maria Agapkina), this independent New York-based unisex brand has been redefining the concept of jumpsuits and making waves in the fashion industry.
Fashion Inspired by Space Science
Maria's inspiration for MonoSuits comes from the fascinating world of space science and the idea of interplanetary travel. This unconventional source of inspiration has led to the creation of fashion pieces that are not only stylish but also functional and forward-thinking. MonoSuit's flagship product is the "smart" technological jumpsuit, also known as the "monosuit." What sets these jumpsuits apart is their innovative solution: patented secret zippers in the lower back. These zippers solve the many practical issues associated with wearing a one-piece garment in everyday life. The MonoSuits team has taken a common wardrobe staple and transformed it into something extraordinary. Monosuits embody the core idea of functional futuristic products that can easily adapt to any environmental conditions, personal mood, and styling preferences. These jumpsuits expand the possibilities of what a jumpsuit can be, offering a myriad of styling solutions for the fashion-conscious individual.
Eco-Friendly Fashion
In 2019, MonoSuits took a giant step forward by pioneering seamless clothing made with circular knitting design and ECONYL® regenerated yarn made from recycled and reclaimed ocean plastics. The brand has embraced a zero-waste policy and added antibacterial impregnation to their garments. This commitment to sustainability is part of their broader goal to eliminate harmful impacts on our planet. Monosuits is on a journey towards sustainable fashion production, and this is reflected in every piece they create.
MonoSuits are A Celebrity Favorite
The brandhas caught the attention of celebrities like Kim and Khloe Kardashian, Kylie Jenner, Maye Musk, Grimes, Uma Thurman, Tina Kunakey, Cindy Bruna, and many more. Their pieces have graced the pages of top-tier media outlets such as Forbes USA, Vogue Paris, Vanity Fair Italia, and others, solidifying their status as a brand with global appeal.
Inclusive Sizing and Personalization
Monosuits is not just about creating stunning fashion pieces; they also stand for uncompromising inclusion worldwide. Their flexible sizing chart accommodates a wide range of sizes, heights, measurements, proportions, and colors for each item. This commitment to diversity and inclusion extends to their ability to personalize orders based on customer demand in various countries. Monosuit's offerings go beyond jumpsuits. In addition to their signature monosuits, they offer diversified lines of casual items, including dresses, tops, bottoms, and accessories. This means that customers can build an entire wardrobe around the concept of the monosuit, creating endless possibilities for stylish outfits.
Global Reach
Monosuits operates on a global scale, transcending geographical boundaries. Their presence at New York Fashion Week (NYFW) is a testament to their dedication to showcasing new collections twice a year and continually pushing the boundaries of fashion.
Monosuits is not just a fashion brand; it's a movement that combines innovation, sustainability, and inclusivity. With their pioneering spirit, they are boldly shaping the future of fashion, one monosuit at a time. As they continue to explore the outer limits of design, Monosuit's influence on the fashion industry is bound to grow, leaving a lasting impact on the world of style and sustainability.
My Take on MonoSuits
Some of the designs really do look like something out of a science fiction movie. While they may be popular, they're definitely not for me.
Will a Shark "Suit Up?"
I don't think a Shark will invest in this. In fact, I'm wondering why Maria even needs one. She seems to be doing quite well for herself and has a global clientelle. While she might not be a Shark Tank "gold digger," I don't think she needs the Sharks.