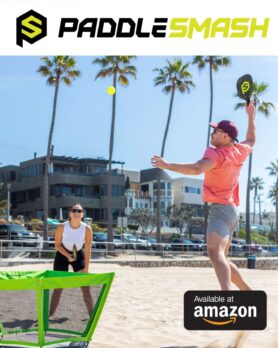 In the world of outdoor sports and family entertainment, there's a new player on the block that's making waves and winning hearts – Paddle Smash. This exciting game was born out of the collaboration between close friends Tim Swindle and Scott Brown, both serial entrepreneurs in the toy and game industry, and Joe Bingham, a dedicated father of seven and a structural engineer by trade. Together, they have created a thrilling outdoor sport that promises endless fun for families and friends alike.
The Genesis of Paddle Smash
The story of Paddle Smash begins in Pleasant View, Utah, where Joe Bingham and his energetic brood of seven children were in search of a way to stay active and entertained right at home. Like many parents, Joe recognized the importance of providing his kids with opportunities for physical activity and bonding, especially in the age of screens and video games.
Initially, Joe's family had taken a liking to pickleball, a popular outdoor sport. However, the logistics of building a full-size pickleball court in their backyard were simply not feasible. Moreover, the idea of driving 20 minutes to the nearest crowded pickleball courts became more of a chore than an enjoyable family outing.
Undeterred, Joe decided to put his creativity to work. Drawing inspiration from his kids' love for Spikeball, he embarked on a mission to merge the two sports into something that could be played at home, in the yard, or at the local park. With a background in structural engineering, Joe was no stranger to innovation and problem-solving.
After several attempts, he managed to create a prototype that his kids absolutely adored. His creation combined elements of pickleball and Spikeball, resulting in a game that was not only entertaining but also physically engaging. The news of this exciting new game quickly spread throughout the neighborhood, and that's how Paddle Smash was born.
The Collaboration of Visionaries
The journey of Paddle Smash took an exciting turn when Joe Bingham's innovative creation caught the attention of his close friends, Tim Swindle and Scott Brown. Tim and Scott, seasoned entrepreneurs with a passion for toys and games, recognized the potential of Joe's invention immediately.
Intrigued by the idea, Tim and Scott decided to put Paddle Smash to the ultimate test: playtesting it with family and friends. The results were nothing short of remarkable. The game not only garnered enthusiastic approval but also ignited a genuine passion among those who played it.
Recognizing the game's potential, Tim and Scott joined forces with Joe to refine and perfect Paddle Smash. Their combined expertise and dedication to creating a durable, portable, and highly engaging version of the game set the stage for its eventual success.
Months of tireless effort went into tweaking the design and enhancing the gameplay. The result is a sport that blends the excitement of paddle-based games with the thrill of competitive play. Whether you're playing in your own backyard, at a park, or even on the beach, Paddle Smash promises endless hours of fun and healthy outdoor activity.
My Take on Paddle Smash
I've played pickleball and Spikeball. Both are fun games. We don't do a lot of backyard gaming any more since the kids all left the nest, but when we get together over the summer or holidays, games are part of the equation. One of our family favorites is good old four square. We also have croquet, badminton, bocce and Spikeball. Perhaps we'll introduce Paddle Smash next summer.
Will Sharks Play This Game?
Back in season 6, Daymond made an offer on Spikeball. The deal never closed, but Spikeball went on to be very successful. They have a televised tournament every year and there's even a movement to get the game into the Olympics.
The Sharks will remember Spikeball and how well it's done. That could translate into one or more offers. Watch for a royalty offer from Kevin. Mark could make an offer too – he regrets not investing in Spikeball. One of the reasons was Spikeball wasn't patented at the time – it is now. I expect multiple offers.