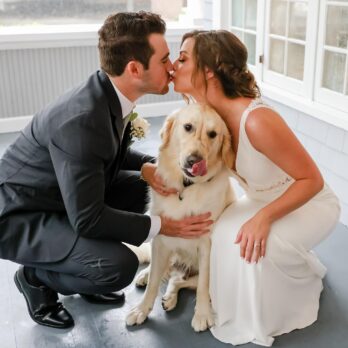 Fairy Tale Pet Care is a remarkable company that has made a significant impact on both the wedding industry and animal welfare. Founded by Ilana Mobely-Karcinski and Kelly Nova, along with their canine companions Grizzie, Rowdie, and Cooper, the company has a heartwarming mission to bring pets into the special moments of couples' lives while also supporting animal shelters. Established in 2015, The company has been bringing "pawsitivity" to the wedding community since then, reflecting their years of experience in the industry.
Fairy Tale Pet Care is dedicated to helping shelter animals find their forever homes. They donate over $20,000 to local animal shelters, emphasizing their commitment to animal welfare. The company's founders and team dedicate countless volunteer hours to finding homes for shelter animals, showing their deep passion for making a positive impact. They have successfully included over 1,000 pets in weddings and special events, recognizing the importance of pets as part of the family.
A New Wedding Niche
With experienced wedding and event professionals on their team, Fairy Tale Pet Care ensures that pets are well taken care of during events, providing peace of mind to couples. They are recognized as the founders of the Wedding Pet Care industry, pioneering a unique service that addresses the needs of couples who want to include their pets in their big day.
Fairy Tale Pet Care is licensed, bonded, and insured, demonstrating their commitment to professionalism and accountability. Their certification in pet first aid and CPR further assures clients that their pets are in capable hands.
The idea for the company came from the founders' personal experiences and their deep love for their own pets. On their 7th business anniversary, they announced that they are franchising, expanding their reach and sharing their passion for including pets in weddings with the world.
Fairy Tale Pet Care is an inspiring example of a business that not only provides a unique and much-needed service in the wedding industry but also makes a significant difference in the lives of shelter animals. Their dedication to both pets and couples is truly heartwarming.
My Take on Fairy Tale Pet Care
My second wedding was on the beach near my parents' home. Our dog was there while we were setting up, but she didn't "participate" in the wedding. This is a fun idea that will be popular with dog owners. I don't think cats could care less if they're in a wedding or not, but dogs (and their people) would probably love it. I don't plan on getting married again, but if I did, I'd use this service. My daughter would have loved it for her wedding too.
Do Sharks Like Fairy Tales?
Lori will not make an offer, she's not a dog person. Barbara could make an offer as could Mark, but my money is on either Robert or Kevin.
Robert is a huge dog guy. He might offer if he agrees with the concept. Kevin would be the perfect partner though. His wedding related business platform could really blow up the demand for these services and the franchise concept.