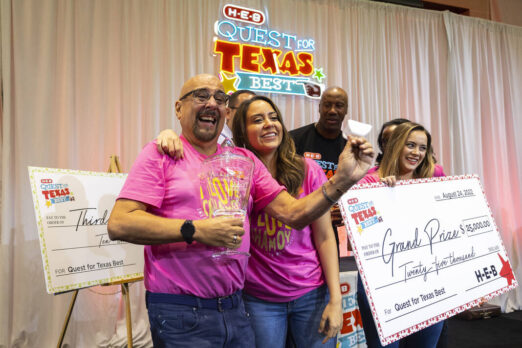 I Love Chamoy is a sweet and tangy sauce that's a staple in Mexican food culture. From traditional candies to sliced fruit coated in Tajín, spice is a crucial element in many Latin American dishes. When it comes to Mexican food, chamoy sauce and Tajín with fruit are one of the tastiest trios to enjoy. But what many might not know is that while enjoying our cultural foods and candies is important, it's undeniable that diabetes is a common disease that afflicts many Latinos in the U.S. and Latin America today. According to the Center for Disease Control and Prevention (CDC), Latinos have more than a 50 percent chance of developing diabetes, 10 percent higher than the national average, not to mention a higher risk of kidney failure, and that's just in the U.S.
A Startling Statistic and a Heartfelt Inspiration
This startling statistic hit too close to home for small business owner Annie Leal, whose own father has been living with diabetes for a decade. She noticed that her dad couldn't enjoy some of the foods he used to, including chamoy sauce, and she saw there weren't alternatives for this Mexican food staple. Leal, who was born in Mexico, was motivated to create her brand, I Love Chamoy, and developed a recipe that uses monk fruit instead of sugar and hibiscus powder instead of Red dye #40 to give it its characteristic red coloring without the artificial dyes.
The Healthy Twist on Chamoy Sauce
Popular in Mexico, chamoy is made with fruit, chilis, and sugar and is used to add a spicy-sweet kick to fruit, ice cream, and candy. Leal's chamoy sauce, which she calls "Mexican candy sauce," offers customers a taste of the beloved sauce but with a sweet catch: the formula is sugar-free, low-calorie, and has 50 percent less sodium. Monk fruit is between 150 to 300 times sweeter than sugar, so a little goes a long way, and it has zero calories. This innovative approach not only caters to the sweet cravings of those with dietary restrictions but also opens doors to enjoy a cherished cultural symbol guilt-free.
A Journey of Learning and Creativity
Before starting the business from the ground up and running it full-time, Leal had many years of experience in social media production and content creation. Though she knew she wanted social media to be a part of her brand's marketing and community-building, and was comfortable with that aspect of the business, she had no experience with creating food products. She had no idea where to start creating the formula for chamoy that would have the familiar taste but that would also be more accessible to people with different dietary needs and allergies. She hired a food scientist to make sure that the claims of saying this product was for diabetics, she had science to back it up.
The Cultural Significance of Chamoy Sauce
Chamoy's long history and beloved status in the Latino community, combined with Leal's healthier formula, has turned her idea into a nationwide success, with bottles sold at HEB stores, a grocery chain in Texas. I Love Chamoy, based in McAllen, won the H-E-B's Quest for Texas Best contest in August of 2022, which included a $25,000 cash prize and a coveted place on their shelves. Her operation is family-run with her mom, sister, and dad, along with help from a social media manager.
Annie Leal's journey from recognizing the need for a healthier version of a beloved cultural treat to creating I Love Chamoy is a story of passion, dedication, and innovation. Her commitment to providing a sugar-free, low-calorie alternative to traditional chamoy not only addresses the health concerns of the Latino community but also introduces people from diverse backgrounds to the rich flavors of Mexican culture. It is a testament to the power of food to bridge cultural divides and promote healthier choices without sacrificing the taste and tradition of cherished dishes. Annie Leal's I Love Chamoy stands as a testament to the potential of small businesses to make a meaningful impact in their communities and beyond.
My Take on I Love Chamoy Sauce
I've had chamoy sauce before, but not Leal's sugar free brand. I like the combo of sweetness and heat and I've used it when grilling chicken and pork. I've even put it on a dill pickle. I will definitely try this sugar free version.
Are Sharks Feeling Saucy?
With this airing during the Shark Tank Halloween Spooktacular, it's hard to tell what the Sharks might do. Jason Blum is a guest Shark too, so he's a wild card. Mark usually takes a long look at healthy food products and, if he likes it, he could make an offer. Kevin shies away from grocery products so I think he'll be out. Lori and Barbara have both bought into grocery type businesses so we could hear offers from them too.