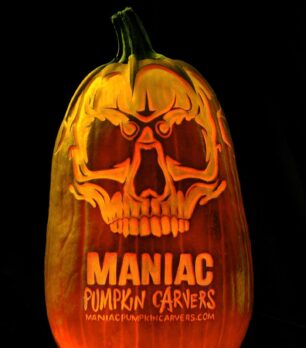 The Maniac Pumpkin Carver guys know pumpkin carving is a cherished Halloween tradition that brings out the inner artist in all of us. While many of us may have dabbled in the craft as children, it's the Maniac Pumpkin Carvers who have taken this "unique" art medium to extraordinary new heights. Founded by Marc Evan and Chris Soria, two creative visionaries who discovered their passion for pumpkin carving while studying at Parsons School of Design, Maniac Pumpkin Carvers has become synonymous with the pinnacle of pumpkin artistry.
From School Haunted Houses to Artistic Masterpieces
The roots of the "company" date back to the duo's high school years when they spent weeks transforming a section of their school into a series of spine-chilling Haunted Houses. Their creative collaboration flourished further while they pursued their art education at Parsons, rekindling their love for Halloween through pumpkin carving. It was during this time that Marc and Chris began experimenting and pushing the boundaries of what could be achieved with a pumpkin. Their unique styles and innovative techniques set them apart, earning them a reputation for turning pumpkins into breathtaking works of art.
Word of their exceptional creations quickly spread, leading to press coverage and the attention of big-name clients, including the New York Yankees, Food Network, and Martha Stewart. This marked the genesis of the Maniac Pumpkin Carvers, a venture with a clear mission: to create the best pumpkin artwork available.
Elevating the Art of Pumpkin Carving
What started as a passion project in a basement apartment has evolved into a full-fledged creative studio, complete with a dedicated team of talented artists and pumpkin carvers. The Maniac Pumpkin Carvers' commitment to pushing the boundaries of pumpkin carving has made them a fixture of the fall season, with their stunning creations displayed at prestigious institutions such as The Museum of Modern Art and the Whitney Museum. Even Yankee Stadium has served as a canvas for their pumpkin artistry.
But their reach extends beyond the physical realm. The Maniac Pumpkin Carvers have made appearances on numerous television shows, including Good Morning America, Rachael Ray, The Kitchen, and The Chew. They've also garnered attention from media outlets such as Wired, Popular Mechanics, Yahoo News, and CNN, further solidifying their reputation as leaders in the field.
Winner of Food Network's Halloween Wars
Perhaps one of the most significant accolades in Maniac Pumpkin Carvers' journey was winning the Food Network's Halloween Wars, a competition that pits the best pumpkin artists against one another. Their victory only cemented their status as masters of the craft.
Marc Evan's expertise in pumpkin carving was further acknowledged when he was selected as a judge on the relaunch of Food Network's competition show, Outrageous Pumpkins, a testament to the respect Maniac Pumpkin Carvers have garnered in the industry.
The Maniac Pumpkin Carvers: More Than Just a Pumpkin Carving Studio
The Maniac Pumpkin Carvers offer more than just stunning pumpkin carvings. Their work is a testament to their artistry and commitment to pushing the boundaries of the craft. They are the ideal addition to your fall events, offering crowd engagement with entertaining demonstrations of their world-renowned pumpkin carving skills. Their ability to engage audiences of all ages and backgrounds makes them a sought-after choice for various occasions.
Maniac Pumpkin Carvers also offer classes and activities for individuals at all skill levels, from beginners to professionals. Whether you're looking to improve your own pumpkin carving skills or want to turn your vision into a reality, Maniac Pumpkin Carvers are there to guide you.
The Power of The Maniac Pumpkin Carvers
Seeing Maniac Pumpkins in person is a mesmerizing experience that transcends age and demographics. Their creations, when featured online, often go viral, amassing a significant following with likes, shares, and engagement. The allure of their work extends far beyond Halloween, captivating hearts and inspiring creativity.
Marc and Chris have not just elevated pumpkin carving; they've turned it into an art form that inspires and captivates people worldwide. Their dedication to pushing the boundaries of pumpkin art, impressive clientele, and numerous accolades make them the undeniable leaders in the field. When you think of pumpkin artistry, think of The Maniac Pumpkin Carvers – where gourds become gorgeous masterpieces, and creativity knows no bounds.
My Take on The Maniac Pumpkin Carvers
These pumpkins look really cool! I pretty much suck at carving pumpkins and I can barely draw a decent stick figure. I would need A LOT of classes to get to these guys' level. One of my daughters is very artistic and she actually did a Scream pumpkin (just like the Maniacs) during her senior year of high school.
Do Sharks Like Pumpkins?
I am a bit cynical about this whole Halloween episode. I think this was a producers' episode where they went out and asked businesses to be on the show because of the Halloween theme. Will there be offers? Maybe, but I'm just not buying into the legitimacy of these pitches.