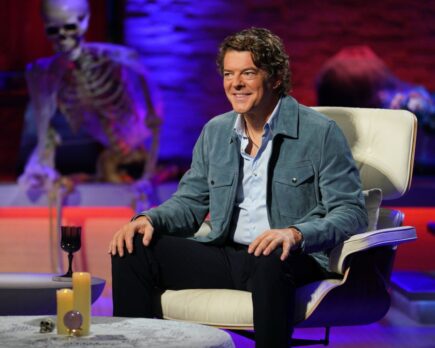 Jason Blum is a name synonymous with the modern era of horror and thriller cinema. As the founder and CEO of Blumhouse Productions, he has redefined the genre and forever altered the landscape of filmmaking. With an uncanny knack for producing low-budget yet high-impact films, Jason Blum has become a powerhouse in Hollywood and a driving force behind some of the most iconic horror movies of our time.
Jason Blum: Early Life and Education
Jason Ferus Blum was born on February 20, 1969, in Los Angeles, California. His father, Irving Blum, was a prominent art dealer, and his mother, Shirley Neilsen, was an educator. Growing up in a family deeply connected to the arts, it was only natural for Jason to develop an appreciation for creativity and storytelling. He attended Vassar College in New York, where he studied film, and later obtained a master's degree in film from the prestigious Tisch School of the Arts at New York University.
Jason Blum: Early Career
After graduating from NYU, Blum worked as a low-level executive at Miramax Films and later as the head of the acquisitions department at Bob and Harvey Weinstein's Dimension Films. This early exposure to the film industry laid the foundation for his future success, as he learned the ins and outs of film production, distribution, and marketing.
The Birth of Blumhouse Productions
In 2000, Jason Blum established Blumhouse Productions, initially as a multimedia production company. However, it wasn't until 2007 that he began to make a significant impact in the horror genre. His breakthrough came with the release of "Paranormal Activity," a low-budget found footage horror film that became a massive hit, grossing over $193 million worldwide against a budget of just $15,000. This film's success set the stage for the "Blumhouse model" – a system of producing high-quality, low-budget horror films with relative creative freedom.
Building the Blumhouse Empire
Jason Blum's keen understanding of audience expectations, combined with his ability to discover talented filmmakers, led to the production of a series of hit horror films under the Blumhouse banner. Some of the notable titles include "Insidious," "The Purge," "Sinister," "Get Out," "Split," and "Happy Death Day." These films not only reinvigorated the horror genre but also provided social commentary and originality that garnered critical acclaim.
The Blumhouse Brand
Blumhouse Productions not only excels in the creation of horror films but has also expanded into producing other genres, such as thrillers and supernatural dramas. Jason Blum's company has also embraced diverse storytelling, pushing boundaries and promoting inclusion through films like "Get Out" and "Us."
Awards and Achievements
Jason Blum's innovative approach to filmmaking has earned him numerous awards and accolades. He has received Academy Award nominations for producing "Get Out" and "Whiplash." His commitment to creating entertaining, thought-provoking horror films has made him a respected figure in the industry.
The Future of Blumhouse
As Blumhouse Productions continues to thrive, Jason Blum remains dedicated to providing a platform for emerging filmmakers and fresh voices in the horror and thriller genres. He continues to challenge conventions and expand the scope of what horror and suspense cinema can be, solidifying his legacy as a master of modern horror.
Jason Blum's journey from a young film enthusiast to the head of Blumhouse Productions is a testament to his vision and determination. His unique approach to horror and thriller filmmaking has forever left an indelible mark on the industry, and his commitment to originality, diversity, and social commentary promises a future filled with exciting cinematic experiences. Jason Blum's story is not just that of a producer but of a pioneer who redefined an entire genre.
Jason Blum on Shark Tank
Perhaps as an homage to Blum's background, he will be featured as a Guest Shark in Shark Tank episode 1506, the first Halloween themed Shark Tank in history. 4 spooky, Halloween related businesses will pitch to the Sharks. There will be ghouls and Goblins and Mr. Wonderful even dons a Dracula costume. Tune in on October 27, 2023 at 8 PM!