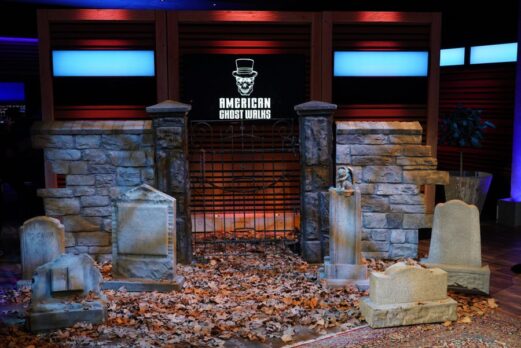 With Halloween approaching, it's the perfect time to explore the mysterious and ghostly side of America with ghost tours. For those who seek an eerie adventure mixed with historical insights, American Ghost Walks offers a unique experience that transcends the boundaries of conventional tours. This family-owned business, founded by Allison Jornlin and Mike Huberty, takes you on a spine-tingling journey through the haunted history of various cities across the United States. In this article, we'll delve into the captivating world of American Ghost Walks and the passionate individuals behind it.
Allison Jornlin: The Professional Weirdo
Before embarking on her journey as a ghost tour developer, Allison Jornlin was a UWM graduate who hails from Big Bend, Wisconsin. She chose to study at the University of Wisconsin-Milwaukee to stay close to home, majoring in English while also taking an interest in American Indian Studies. Her deep appreciation for Milwaukee, its history, and its ghosts eventually led her to create the first haunted ghost tour of the Third Ward in 2008. This tour laid the foundation for what would become American Ghost Walks.
Inspired by the tales of Richard Crowe, a pioneer of haunted history tours in Chicago, Allison combined her love for storytelling and her fascination with the paranormal to craft captivating tours that connect the history and heritage of each location with its ghostly past. Over the years, American Ghost Walks has expanded to seven states and Puerto Rico, offering a diverse range of tours, each with its unique blend of history and the supernatural.
What Sets These Ghost Tours Apart?
What truly sets American Ghost Walks apart from other ghost tours is their commitment to connecting history, heritage, and ghost stories. Allison and Mike don't just share any ghost stories; they weave tales that are deeply entwined with the history and culture of each location.
For example, their tour in Kennebunkport, Maine, resurrected for this season, takes participants on a journey through the lives of famous writers who spent their summers in the area. The tour delves into the intriguing spiritual experiences of these writers and their contributions to historical movements like abolition and women's rights. American Ghost Walks aims to provide a holistic understanding of a place's history, going beyond mere ghost tours to uncover the deeper connections between people, history, and the supernatural.
Creating Successful Ghost Tours
Creating successful ghost tours requires extensive research, including archival research, old newspaper investigations, and consultations with local libraries and historical societies. The script for each tour is meticulously crafted to connect stories and create a cohesive narrative that resonates with both locals and tourists. Given that many of their tours are walking tours, it's crucial to map out routes that cover interesting locations within a one-mile radius.
Finding Haunted Places
Identifying haunted places is a blend of historical research and on-the-ground exploration. Allison searches for historical sites and hauntings mentioned in old newspapers and documents. She then talks to local residents and community members to verify the relevance of these stories. It's a process that combines historical detective work with conversations with local experts and enthusiasts.
Addressing Skeptics
To skeptics who question the existence of ghosts or hauntings, Allison points out that ghost stories hold a sacred place in many people's lives. While they may be entertaining, ghost tours are, for some, deeply meaningful and even spiritual. In a society dominated by science, American Ghost Walks offers a unique way for people to reconnect with the spiritual aspects of learning.
A Milwaukee Ghost Story
As Halloween approaches, it's only fitting to share a chilling Milwaukee ghost story from American Ghost Walks. One of the most captivating tales centers on Clair Richardson, the founder of the Skylight Theatre. His ashes rest beneath the theater's stage, and many believe his spirit remains. Theatrical performances have been disrupted when the spotlight on his urn went out, a phenomenon that has repeated itself over the years. To this day, before every show, the stage manager checks Clair's light, a tradition that must be upheld for the performance to go on.
Mike Huberty: A Journey from Music to Ghost Tours
Mike Huberty's path to co-owning American Ghost Walks was rather unexpected. After touring with his band, Sunspot, and facing financial difficulties, his sister Allison suggested he start a ghost tours business in Madison. The timing, being September leading up to Halloween, was perfect, and within a month, Mike was able to pay his rent. This marked the beginning of what would become a thriving venture.
Together, Mike and Allison have expanded American Ghost Walks to offer paranormal walking ghost tours in eight states and 25 cities, taking participants on fascinating journeys through historical neighborhoods filled with chilling tales and haunted history. With an array of ghost tours available, American Ghost Walks provides an opportunity to experience the paranormal in various corners of America.
As Halloween approaches, American Ghost Walks invites you to step out into the mysterious and ghostly side of history. With a commitment to preserving the historical and supernatural essence of each location, Allison Jornlin and Mike Huberty have transformed a passion for the paranormal into a thriving family business that continues to captivate and inspire visitors seeking an otherworldly adventure. So, if you're ready to explore the unknown and embrace the paranormal, American Ghost Walks beckon you to join them on a journey through the haunted history of America.
My Take on Ghost Tours
My wife and I have gone on several ghost tours. Whenever we go to a new city, we see if one is available. We've been on ghost tours in Kennebunkport, Maine (it might have been American Ghost Walks), two in Boston, one in Vegas and one in Saint Augustine. I find them entertaining and a bit creepy. I've never seen a ghost on a tour, but I've seen some things I can't explain in other places.
Do Sharks Believe in Ghosts
As I've said in other posts for this episode, I'm not sure these pitches tonight are "real." I think the producers recruited businesses to go with the Halloween themed show. While it's a good commercial for the business, I don't think it's a bona fide pitch.