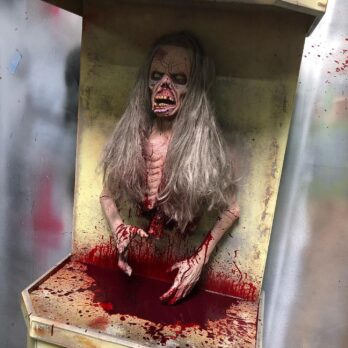 Guy Kitchell, owner of The Thrill Builders, knows that in the world of entertainment, few experiences can send shivers down your spine and leave you exhilarated like a well-crafted haunted attraction. For those seeking to venture into the spine-tingling realm of haunted houses, escape rooms, and immersive entertainment, The Thrill Builders stands as a beacon of expertise and passion. With a track record spanning the globe, Thrill Builders is renowned for creating some of the best haunted attractions in the world.
A Haunting Legacy
Guy Kitchell, the owner of The Thrill Builders, is a visionary in the realm of themed entertainment. With a mission to infuse fun and excitement into every project, his team's portfolio includes Haunted Houses, Mini Golf courses, Lasertag arenas, Mini Escape Games, and much more. Regardless of the attraction, the company prides itself on designing, building, and operating innovative, engaging, and, most importantly, profitable experiences.
One of the hallmarks of The Thrill Builders is their commitment to custom creations. If you have an idea for a unique prop or an addition to your haunt, send them a quick sketch, and they'll provide a quote. Their passion for crafting fun shines through every project, ensuring they create attractions that thrill and engage visitors.
The Thrill Builders Offers A Full-Service Approach
The Thrill Builders is more than just a haunted attraction design company; it's a one-stop shop for turning your entertainment concept into a reality. Their massive facility houses a team of dedicated professionals, including carpenters, themers, CAD drafters, artists, faux finish painters, and game designers, all working together to bring your vision to life.
Their state-of-the-art equipment includes a 10-foot CNC machine, multiple welders, a metal fabrication station, a spacious paint booth, forklifts, and dock-height loading capabilities. For escape room enthusiasts, they stock over 500 different electronic consoles, making it convenient to outfit your escape room with the latest technology.
A Turnkey Solution for Success
The Thrill Builders provides a comprehensive and seamless solution to launching your entertainment venture. From concept to a fully functioning and profitable facility, they handle every step of the process. When installation is complete, they ensure your staff is trained, and you are satisfied with the result. It's this commitment to excellence that sets them apart and keeps their clients coming back for more.
One of the standout advantages of choosing The Thrill Builders is their status as a U.S.-based company. This comes with several benefits that their overseas competitors simply can't match. Thrill Builders offers cost-efficient shipping, saving clients thousands of dollars in transport fees. Furthermore, there are no import fees or taxes to worry about, making your budgeting process smoother. Most importantly, Thrill Builders takes pride in providing superb support and maintenance, guaranteeing the longevity of your attractions.
My Take on The Thrill Builders
After researching this company, I want to open a haunted house business of my own! The work these people do looks top knotch. I don't think the company really needs a Shark, the producers likely invited them to spruce up the Halloween themed episode with some spooky props. It should be a fun pitch though.
Will Sharks Be Thrilled?
While I don't think Guy needs a Shark, I think everyone will "play along" as if he wasn't there just for shock value. That said, I think you'll see Mark and Jason Blum coming in with offers. I wouldn't be surprised if Guy has worked with Jason before.