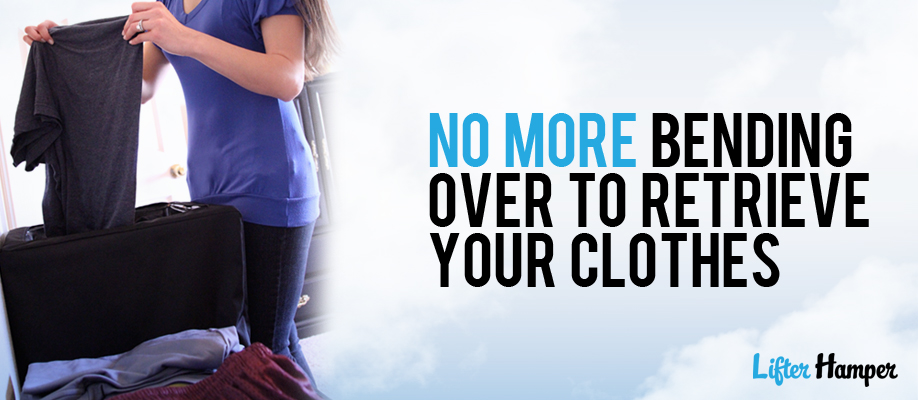 Lifter Hamper takes its dirty laundry into the Shark Tank this week. Invented by Marvin Philip, a former All Pac-10 Cal Golden Bears center and 2006 Pittsburgh Steelers 6th round draft pick, the Lifter Hamper is a bungee cord loaded hamper that lifts clothes to the top of the hamper to reduce back strain while removing dirty laundry.
Lifter Hamper eases back strain
Marvin Philip played for 4 years in the NFL with the Steelers, Browns, and Bills. His NFL career was cut short due to back injuries –  a big problem for a center who makes his living pushing around 300+ pound men. As a guy who suffers from chronic back pain, I can sympathize with Philip's condition. After retiring from the NFL, he found bending over to lift even little items like dirty clothes to be painful. Philip looked around for a clothes hamper that would allow him to grab the dirty laundry without bending over; he couldn't find one anywhere. In yet another Shark Tank example of a "find a need and fill it" business, the Lift Hamper was born.
Lifter Hamper is a product (the only one so far) in the Empee Solutions portfolio. According to Empee's website, "Empee Solutions is a company that represents innovative, high-quality products that help simplify life." The site says "more products are coming soon," but for now, it's just The Lifter Hamper, replacement liners, and an "Industrial" Lifter Hamper that are the only products listed.
Will Sharks clean up with Lifter Hamper?
Just about everyone has a clothes hamper or two (or three or four) in their home and they need to get replaced every few years, especially if you have kids who use them for hiding places, indoor soccer goals, and other non-hamper related uses. A typical clothes hamper costs anywhere from $12-$20 for a basic hamper and $20-$60 for more durable varieties; specialty "decorator" hampers can cost $60 to several hundred dollars. The Lifter Hamper, at $49.99, falls squarely into the middle of the hamper price spectrum. It is made out of very durable materials, so it looks like it would last longer than the "cheapy" hampers. The added benefit of its bungee cord activated lifting mechanism makes it a very good choice for those in the market for a new clothes hamper.
Whether a clothes hamper will float in the Shark Tank is another matter. The product is innovative, appears to be well made, and is priced appropriately. It is unique and has very real benefits for back pain sufferers too. The "Industrial sized" Lifter Hamper has potential for hospitals, hotels, nursing homes, and other businesses that do a lot of laundry: anything that makes a workplace safer will always find some market share.
I think the Sharks will like the idea – it's a common sense innovation to a product everyone uses. Sales will be key. The business is less than a year old and the Lifter Hamper will have to show some solid numbers to whet the Sharks' appetite, otherwise it's just another good idea that needs to be proven in the marketplace. The Sharks will sometimes take a flyer on a product that is innovative and original, but more often than not, they want sales and proof of concept. As long as Marvin Philip's pitch stays focused on the Lifter Hamper, and doesn't stray into other potential products for Empee Solutions, he has a shot at funding.
This could be another product for Lori Greiner, the Queen of QVC's, Shark Tank portfolio. I think the Lifter Hamper would appeal to the home shopping crowd, and if Lori thinks so, look for her to make an offer. I am "in."