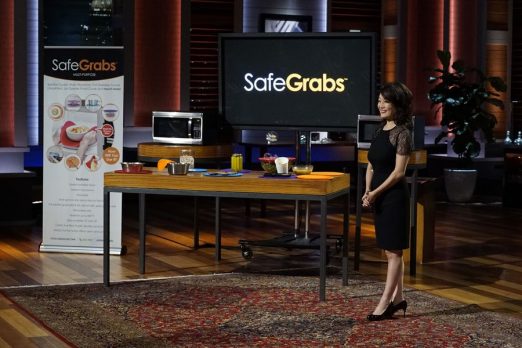 Cyndi Lee hopes to grab a Shark to invest in her business, SafeGrabs, an 8-in-1 microwave/home product that functions as a microwave oven mitt, place mat, trivet, potholder, jar opener, utensil rest, splatter guard and food cover. Cyndi originally named the product the Micro Easy Grab, but she changed the name to reflect its broader uses as a product.
Cyndi won a QVC contest back in 2015 and sold out when she appeared. She did so well, QVC invited her back. Earlier in 2016, she appeared on the Steve Harvey show in his Passion Project segment. She won that contest, too and got $5000 to develop the product further.
It sells on Amazon for $12-$15. Cyndi wants to go beyond online sales and get into Target, WalMart, and other big box stores. To get a purchase order at these kinds of retailers, she needs money to make product. She likely needs a Shark to help with purchase order financing.
Will a Shark grab this deal and run with it?
SafeGrabs Company Information
Video

Posts About SafeGrabs on Shark Tank Blog
Microwave Grabber and more – Safe Grabs
SafeGrabs Shark Tank Recap
Cyndi enters seeking $75,000 for 12% equity in her business. She's done over $300K in sales over three years, primarily selling on Amazon and in small mom and pop shops.
After her presentation, Mark says "it's a product, not a business." He's out. Barbara says she just uses a towel. She's out. Kevin thinks it takes too much explaining and demonstrating; he's out. Robert says she's done a good job, but it's not for him and he goes out too.
Lori LOVES it and offers the $75K for 30%. Cyndi counters with 17%. Lori comes down to 25% but when Cyndi counters with 20%, Lori stands firm. Cyndi accepts!
RESULT: DEAL with Lori for $75K for 25%
SafeGrabs Shark Tank Update
The Shark Tank Blog constantly provides updates and follow-ups about entrepreneurs who have appeared on the Shark Tank TV show. After doing the deal with Lori, Safe Grabs SOLD OUT on QVC the day after Shark Tank aired. There is an update segment in episode 825 in season 9.
In the update segment, the company's success is highlighted. In a year, Cyndi has $2.4 million in sales. She also added pinch mits to her line. As of August, 2022, the company is still in business with $4 million in annual revenue and over $24 million in lifetime sales..