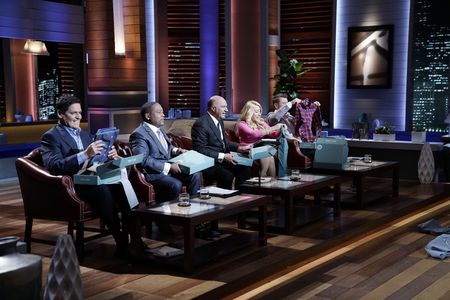 Episode 825 is a previously unaired episode from season 8 which airs in the fourth week of season 9. There are many reasons why this occurred, but the important thing is, it's a brand new episode with four new entrepreneurs seeking investments from the wealthy Sharks.
Justin Rietema and Doug Schultz want to float in the Tank when they demonstrate the Human Bobber, their life vests that convert into "water chairs." Sean Spencer and Ryan Glenn hope to shoot their way out of the Tank with a deal for Mirmir, their photo booth service that shoots high fashion-style photos. Steven Mazur and Eric Huang want a Shark who's the right fit for Ash & Anvil, their clothing line for short men. Derrek Burr pitches Kwik-Hang, his dad's invention that's a simple to install curtain rod holder.
Who catches a Shark tonight?
The Sharks
---
Daymond John
Kevin O'Leary
Last season, Lori Grenier invested $75K for 25% equity in Safe Grabs, a multi purpose microwave grabber and splatter guard. Tonight we see how the company is doing.
There are 28 Shark Tank Episodes for Season 9. This season features more appearances by "guest Sharks," including billionaire Sir Richard Branson. The 200th episode also airs this season. Casting is currently closed, but it never hurts to get a head start on season ten! If you would like to appear on the show, check out our Auditions and Casting information.
Episode 825 – The Shark Investors and Entrepreneurs
The Shark Tank Episode 825 entrepreneurs will make their best pitch to the panel of five Shark investors who will use their own money if they choose to invest. The Shark Investors negotiate on the spot without any previous information, which differs from typical negotiations between venture capital investors and entrepreneurial start-ups.
Companies pitching the Shark Investors must go through a rigorous due diligence process before an on-air deal is completed. Shark Tank Blog follow ups help you keep track of the companies that end up successful and the ones that don't complete their deal.
Thank you for reading SharkTankBlog, the number one site for Entrepreneurs, Investors and Fans. Our content updates multiple times day, giving you the latest information on Episode 825, Season 9, and all other seasons and episodes.
Episode 825 Press Release
Shark Tank: Episode 825 (10/22)
SHIRTS FOR SHORTER GUYS, A HIGH-END PHOTO BOOTH, A MULTIFUNCTIONAL LIFE JACKET AND A DEVICE THAT TAKES THE AGGRAVATION OUT OF HANGING CURTAINS,
ON A NEW EPISODE OF ABC'S 'SHARK TANK'
"Episode 825" – Millennials from Detroit, Michigan, hope to tailor a deal for their line of premium shirts for men 5'8" and under; two Los Angeles, California, photographers can make anyone look beautiful with the technology behind their high-end photo booth; a police officer and former Marine from Cumberland, Rhode Island, hopes the Sharks won't leave him hanging with his no-drill, no-hole curtain rod brackets; and two men from Coconut Creek, Florida, invented a personal flotation device with multifunctional options. Also, a follow-up with Cyndi Lee from Houston, Texas, and her multi-use kitchen tools, Safe Grabs, which Lori Greiner invested in during season eight, on "Shark Tank," airing FRIDAY, OCTOBER 22 (9:00-10:01 p.m. EDT), on The ABC Television Network.
The Sharks in this episode are Mark Cuban, Kevin O'Leary, Daymond John, Lori Greiner and Robert Herjavec.