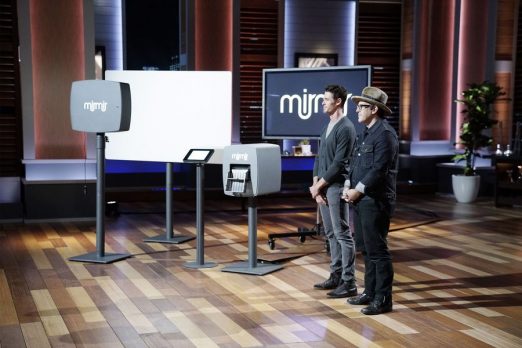 Sean Spencer and Ryan Glenn pitch Mirmir, their "high fashion" photo booth, in Shark Tank episode 825. Mirmir (short for "mirror mirror) gained notoriety as the Kardashian's favorite photo booth. Apparently, one of the booths is at every Kardashian party. With the help of the Kardashian's social following, Mirmir became an in-demand service with very little marketing effort.
Spencer and Glenn met in New York where they ran competing photo booth services. When they got to talking, they realized they shared many clients, so they decided to join forces. The booth itself really isn't a booth, it's more like a mobile fashion shoot. Mirmir takes the picture, runs it through its "secret software," and prints copies on the spot. The result is what some call a "Saturday Night Live look," referring to the filtered, muted colors of Saturday Night Live cast and guest photos at the beginning of each show.
The company is based in LA, but offers services in New York, San Francisco, Dallas, and Canada. The cost is a rather hefty $2,750 for four hours. For extra money, they'll make GIFs and let you share your photos directly on social media. While the business is humming along nicely in celebrity circles, they either want to offer a more mainstream product or get into other wealthy markets. A Shark could help with either option.
Will a Shark want to take pictures with Mirmir?
Company Information
Video

Posts about Mirmir on Shark Tank Blog
Mirmir Shark Tank Recap
Sean and Ryan Enter the Tank seeking $350,000 for 10% of their business. They briefly explain their product and then invite the Sharks up to try out the booth. The Sharks really ham it up in the booth, then they go back to their seats. Robert says he had one of the booths at his own wedding and he thought the picture quality was great. Mark says there's nothing proprietary and the company was just the "hot new brand" in the space.
Revenue for the first three years in business was $4 million. They currently had 9 machines in New York and LA and charged $2,750 for a few hours. If you want an assistant and full social media blasting, the cost was $3,650. Each machine costs $22,000. They want a Shark's investment to buy more machines for events and for placing machines in fixed locations.
Mark doesn't like the fixed location idea or the fact that this isn't proprietary; he's out. Daymond likes the concept, but feels technology is moving so fast, it could pass Mirmir by; he's out. Lori doesn't like the fixed location idea either; she's out. Kevin offers to loan the guys $350,000 as a loan at 18% interest for 5% equity. Robert likes the business, but he wants 50%. Sean and Ryan say the most they'd give up was 20%. Robert then offers $700,000 for 20% and the guys accept.
Mirmir Shark Tank Update
The Shark Tank Blog constantly provides updates and follow-ups about entrepreneurs who have appeared on the Shark Tank TV show. It appears the deal never closed with Robert. It was later revealed that Eric Cusin, who appeared in the Tank during season 6 pitching Reviver, was a partner in the business. The guys continued to expand both the number of machines in service and their locations. As of December, 2021, in addition to NY and LA, they have locations in Austin, Bangkok, Dallas, London, Montreal, San Francisco, Tokyo and Toronto. The company also started partnering with big events like the Oscars and Golden Globe Awards for their services. As of February, 2023, annual revenues are $24 million.