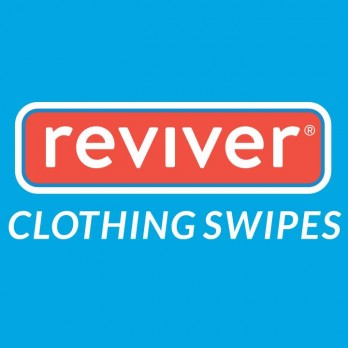 Ben and Eric Kusin hope to revive the Sharks with Reviver, their line of "clothing swipes" designed to deodorize and freshen up clothing, in Shark Tank episode 606. The pair bill their product as "breath mints for your clothes." Each reusable swipe fits over your fingers, when you wipe it on your clothes or hair, its proprietary formula gives everything a clean, fresh scent.
Ben, the founder and creator of Reviver, had his "AHA moment" when he wanted something to eliminate smoke odors from his clothes. He went to a convenience store and saw gum and breath mints. That's when he thought he should make a breath mint for his clothes. He founded the business in 2012 and the first Reviver packages went on the market in 7-11 Stores in his native Dallas area in January, 2013. Caesars Entertainment is also carrying Reviver at casinos in Las Vegas, Atlantic City and Reno. Brother Eric joined him soon after the company launch, as did their father, Gary – who happens to have a bit of entrepreneurial and Venture Capital experience (he started Babbages which became GameStop and is an advisor at TPG Capital among other things) .
There is literally nothing like Reviver on the market today and Ben has a patent pending. While the product isn't proven yet, it has a lot of upside as other clothing fresheners come in spray form. Reviver is currently available in Walgreens nationwide and the pet version is at Petco stores. They are also available on Amazon.
The Kusins are likely looking for cash to produce product and a Shark's retail connections. Will the Sharks freshen up a deal for Reviver?
Reviver Shark Tank Recap
Ben and Eric enter seeking $150K for 5% of the business. They tell their story and introduce their swipes. They ask Lori to come up and bring out a shirt they've been "marinating" in burgers and fries. Lori says it works!
The guys hand out samples and Ben tells them about his "AHA Moment." They reveal they got $2 million from their father and they've done $500K this year. They project $4 million for the next 12 months. Kevin disputes the value of $3 million and they reveal dad's background.
They also reveal they have a meeting with Wal Mart in August. Mark disputes calling Reviver a "technology" right before a break, he thinks it's a good product, though. That doesn't keep him from going out. Mr. Wonderful thinks sales aren't big enough, he's out. Barbara says she doesn't invest in "rich kid businesses," she's out. Robert thinks Barbara's attitude is wrong.
Lori says this product made her think "Cha Ching a Ling a Ding Dong" and offers $150K for 15%. Ben and Eric turn to Robert who offers $150K for 10%. Lori wants to go on QVC and pitches her connections. Ben says he'll do Lori's deal and Lori Cha chings her way on stage!
RESULT: Deal with Lori for $150K for 15%.
Reviver Shark Tank Update
The Shark Tank Blog constantly provides updates and follow-ups about entrepreneurs who have appeared on the Shark Tank TV show. The deal with Lori closed and the Kusin brothers appeared on QVC several times selling their wipes. The "rich kids" comment sparked a lot of discussion post show, but the Kusin brothers shook it off. The guys introduced wipes for dogs and cats too.
Eric took a partnership stake in MirMir in 2016. MirMir is a mobile photo booth business that appeared in the Tank in season 9. In April, 2017, the brothers invested in a Dallas restaurant called Malibu Poke. A second location opened in Austin a year or so later. Poke is a Hawaiian dish best described as "deconstructed sushi." In 2019, Ben and Lori exited the company and Ben started VENN, "a live 24/7 network for gaming, streaming, e-sports and entertainment audiences."
The wipes business is going strong, but the company doesn't do a lot of social media engagement. Despite that, a Tweet appeared in May, 2022, that said "new launch coming soon." As of August, 2022, there have been no new products launched by the business. Annual revenue is $5 million. As of April, 2023, the website is down and the products are listed as "currently unavailable" on Amazon.
Posts About Reviver on Shark Tank Blog
Reviver Preview – pre show Interview with Eric Kusin
Reviver Information
Video