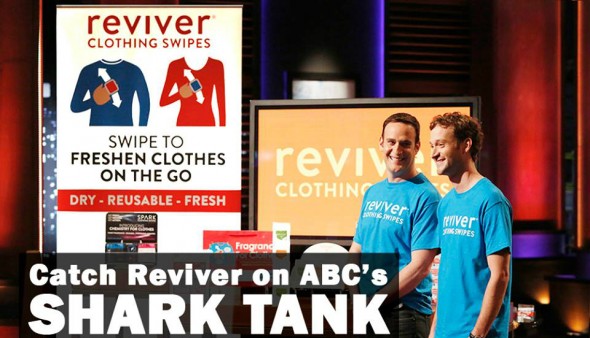 I spoke with Eric Kusin before episode 606 aired to get a Reviver preview. Eric appears with his brother, Ben -who invented Reviver – to pitch the business in the Shark Tank.
Ben originally got the idea for Reviver about 6 years ago. Ben was a smoker who wanted to mask the smell of smoke. He went to a local 7-11 before a meeting to see if there was anything he could buy to mask the smell; he found nothing.
"Basically," says Eric, "the only things out there that do what Reviver does are sprays. When you spray stuff on you, it's like getting crop dusted, it just masks the smell. Ben envisioned something more neutralizing in its effect."
Ben got the idea six years ago, but it was only a bit more than two years ago he went into action. "Ben's fiancée' at the time – they're married now – basically told him he ought to do something with this idea," Eric explains, "that's when things started to happen. He met with manufacturers in the wipe/swipe manufacturing space and explained what he wanted to do. People got excited and wanted to be a part of it. He thought of an idea for something that fits in a pocket that's reusable to deodorize clothes. They tried a lot of different things, it was an evolutionary process."
"I was a buyer for Neiman Marcus when Ben asked me to join him. With my experience as a buyer, I know how to speak to other buyers, I know what they're looking for. When I was with Neiman Marcus, I was one of those people calling companies on Saturday morning after I saw them on Shark Tank!"
Reviver Preview: The Road to Shark Tank
"Before we taped, we secured deals with Walgreens and Petco to carry our products. We didn't have a sales force to speak of, in fact, we've just started contacting firms that can help sell us into the retail space. We intentionally started with big companies so we could scale up quickly and we had good success. Walgreens was our first customer, but it's rare to get launched in all of their stores. What helped us is we are in a space without a lot of innovation that's dominated by big players like Proctor and Gamble who spend billions per year to develop 20-30 products. Since there is nothing like Reviver out there, it made things somewhat easier."
"We wanted to develop a brand before we got on Shark Tank. We  wanted to create new brands, like Smoke fighter for tobacco and marijuana (where it's legal) smokers, pet owners, and even people who use fragrances. When you think about it, when you use perfume or cologne, you put it on your body then put clothes over it. Our product freshens the outside of the clothes. With our cologne and perfume replacement products, people can 'swipe on sexy!' With the different brands we created, we developed the ultimate impulse items in different spaces. Remember, Reviver isn't one brand, it's a fragrance delivery system."
"It's kind of funny how we got on the show. My mother has a cookie company that makes the world's smallest cookies. She went on a Shark Tank-like show for "momtrepreneurs" Katie Couric was doing – I think there were one or two Sharks involved. She didn't win, but she told one of the producers they ought to get us on the show. We got in contact with a producer and things went pretty fast after that. We ended up being the very first people to tape for season six."
"Our whole family LOVES the show. As a business, we talked about Shark Tank from the beginning. When we first started talking about it, the 5% royalty clause was still in effect. Since we don't have any investors, we felt like we might do it if the opportunity presented itself. I don't think the royalty clause would have deterred us, since we were fortunate to not have to seek capital in the beginning. If appearing on Shark Tank is  worth $4-5 million in PR and exposure, you'd need to be 100 million company to justify giving them a 5% royalty. It's a hard decision we ultimately didn't have to make."
"The experience itself was surreal. We were in LA when the Kings were playing in the Stanley Cup, so the hotel bar was loaded with all these people in their company shirts, cheering on the Kings; it was quite a funny sight. Once we were on the set, I am naturally curious so I wanted to talk to everyone. Some producers don't want you to talk to other companies and some people are a bit overwhelmed by the experience – they're not used to talking about their business."
Eric obviously couldn't discuss the outcome of the show, but he did say he hoped the edit was "a fair reflection as to what went on. I hope they pay homage to the intellectual nature of the discussion."
One bit that did leak out was a comment made during their pitch by Mr. Wonderful. "Since we were the first business for season 6, I think they were shaking off the cobwebs to an extent. When Mr. Wonderful made the comment, it threw everything of kilter for a bit."
Watch this short video clip to see what Mr. Wonderful said.
Reviver Back Story
The Kusins come from an entrepreneurial family. Grandpa has a chili company, mom has a cookie company, and dad created Babbage's (which became GameStop) and facilitated the sale of Kinko's to FedEx (among other things). "Growing up, we always discussed business at the dinner table," Eric continues. "We were fortunate in that respect, growing up in such an entrepreneurial environment. I have an MBA and I swear I learned more at the family dinner table than I learned in business school!"
"My father was also an initial investor, so he helped in that respect as well, but the people we're talking to don't know him. Where he was really helpful was advising us on taking the product to market and educating the public. Some of that dialogue may come out in the Shark Tank."
"Is being on Shark Tank worth it? If you look now, I have seen the  expenses and opportunity costs of appearing on the show. We put our entire sales function on hold for Shark Tank, because we felt it was a big educational opportunity. There were a lot of conversations about it and we know we are going to be a different company after the show airs. We viewed applying as a Hail Mary pass, taping was catching the pass, now we are at the one yard line, waiting to air."
Parting Reviver Preview Words of Wisdom
"Ben and I think we can grow this company. There's nothing like it. Like I said before, it's a fragrance delivery system we can grow brands around; we're not a one trick pony. The Reviver swipe is a patented wax-like substance that goes on dry and washes out of clothes naturally. In the future, we may have an exit strategy, but right now we're focused on growing our brands."
"I've always been a fan of Shark Tank. I love 'betting' on the companies and I love hearing the entrepreneurs' stories. I'm a fan of the products too. I bought some Bombas socks last week. I've purchased Scrub Daddy – I'm not surprised they have the number one Shark Tank product, it's great. I have a Drop Stop in my car, I bought a Floating Mug, I gave Simple Sugars as a gift. I have a lot of stuff. It come from being a buyer; as a buyer, you have to be a shopper."
"As far as advice for other entrepreneurs goes, being an entrepreneur isn't for everyone. I happen to think it's the American Dream, I left a good job to be an entrepreneur because I like it. But if you can't pull the trigger or deal with not knowing what tomorrow will bring, you need to partner with someone who can, it's the nature of the beast, it's an attitude. I respect and admire entrepreneurs. To be a successful entrepreneur, you need to seek out good advice and trust your gut."
I had one last question for Eric. He answers it on The Hot Dog Truck.