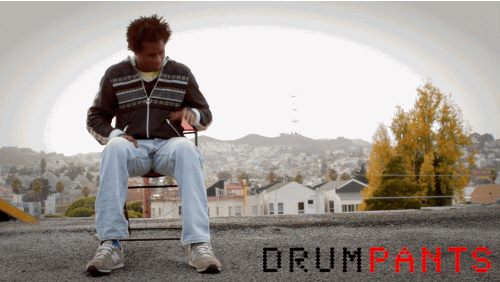 Drum Pants is the first wearable, electronic music kit in the world. Co-founders Lei Yu and Tyler Freeman introduce their technology to the Shark Tank in episode 603. The idea for Drum Pants began as a way for Freeman (who happens to be a drummer) to goof on his friends by slapping his legs and producing drumming noises. The joke ended up becoming a very sophisticated product that allows users to use over 100 pre-loaded musical sounds and drum beats. You can upload your own sounds through the Drum Pants app, too.
Drum Pants also controls several MIDI music programs and can even be programmed as a game controller, slideshow controller, and they're setting it up to interface with Google Glass. It's like a hi-tech Clapper for music and electronics! The Basic Kit – priced at $99 – includes two foot pedal sensors, two drum pad sensors (which fit in a pocket), and the control box with over 100 built in sounds. The "high end" kit – called the Neil Peart Kit – has the maximum 12 drum sensors feeding into the control box.
The Drum Pants team is comprised of smart people: Freeman worked at Google, Adobe, BandPage, and the Smithsonian Institution developing software and apps while Yu worked at Google, Honeywell, and the US Government overseeing large scale projects. The rest of the team is very accomplished as well.
Drum Pants is the latest Kickstarter to appear in the Shark Tank. They more than doubled their $35,000 goal in January 2014 to get the first run of production off the ground. Its accompanying app lets you upload sounds and it can be used as a stand-alone MIDI controller in any web browser. Yu, Freeman and the Drum Pants team used the Design Process while developing the product which means they develop, create, and test prototypes based on potential customers' feedback instead of wasting time and energy building something no one will ever use.
My Take on Drum Pants
I think this is a cool product. I like that they give a nod to Rush's Neil Peart; I'm reminded of the line from Spirit of the Radio: "All this machinery, making modern music, can still be open hearted." This is true of Drum Pants. It puts the spirit of music right into your pants. A guy like me with little musical acumen would probably begin to annoy people in about 5 minutes, but more accomplished musicians can do some very cool things with this technology. I envision a band in the near future comprised of four or five people on stage playing their pants!
This is not a terribly expensive gadget and I believe people would buy it for the same reason Freeman invented it in the first place: to joke around with their friends. Musicians who are into the latest technology will snap it up, too. Even the most expensive kit costs less than a single snare drum. The product is currently available in limited quantities, with more stock promised for December 2014. Whether they get a deal or not, I think they'll sell a boatload of Drum Pants. I want one, I'm just afraid my wife will deck me after I play with them for more than five minutes!
Do the Sharks March to Drum Pants' Beat?
In fairly rare "spoiler footage," ABC leaked a sizable chunk of the Drum Pants pitch footage. It shows Daymond and Robert making offers to Yu and Freeman who go to the hallway to have a discussion. When they return, Daymond goes "out" due to their indecision, leaving Robert as the last Shark swimming. But is he? Even with the reveal of this clip, I could see any Shark bidding on Drum Pants, except maybe Lori.
Mark Cuban has lurked in the background on many deals and swept in with a more competitive offer at the last minute. I wouldn't rule out Daymond coming back in, either. I am predicting a deal for Drum Pants. See for yourself in the video below.