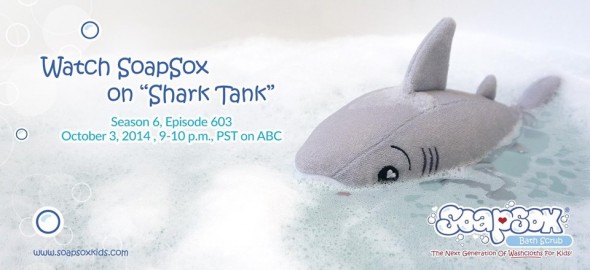 Ray Phillips and Alvin Uy hope to clean up with their Soap Socks Stuffed Animal Wash Cloths in Shark Tank Episode 603. The two dads invented SoapSocks when Ray made bath time a bit less frightening for a small child at a residential treatment facility. The kid didn't want to take a bath without his stuffed animal, so Ray opened it up, stuck a bar of soap inside, and lathered away.
The dads realized they were on to something, so they developed some prototypes and raised over $50K on Kickstarter. They used the funds to run safety and compliance tests, among other things. The Soap Socks are like a stuffed animal, but they're terrie cloth on the outside. Inside is an anti microbial sponge and a pocket to hold bar soap. Now kids can bring a stuffed toy into the tub with them. When the Soap Socks start to get grungy, simply throw them in the washing machine.
So far, the product has been well received by kids and parents alike. Children can play with their Soap Socks stuffed animal friend all day, then bring it in the tub. Try THAT with a standard Teddie bear!
My Take on Soap Socks
With five kids, I've done more than my fair share of bath duty over the years. We always kept a basket of (mostly plastic) bath toys next to the tub. Every once in a while, they'd start to get moldy and we'd run them through the dishwasher. We had a few face cloth puppets to bath the kids with when they were really small, but they didn't encourage the kids to lather themselves up.
SoapSocks get the kids involved with bath time, so it teaches them to bathe themselves. They also keep mom and/or dad from getting wet while bathing the kids.
There are currently six soap socks washcloths – including "Tank" the Shark – with three more in development. They cost $19.95 on the SoapSox website, but you can get them cheaper on Amazon. That price may seem steep for a washcloth, but it won't be a barrier for many parents (not to mention grandparents and baby shower goers). If the little stuffed animals make the company's goal "to make your life easier and more enjoyable" come true, it really doesn't matter what they cost.
My kids are too old for these now, but back in the day, we probably would have had a half a dozen of them. I am IN.
Will Sharks Bathe in the Tank and Invest
Successful Kickstarters have proof of concept when they walk into the Shark Tank, but they still need good numbers. Toy companies also benefit from doing the proper testing. The Soap Socks guys did the testing, so it will come down to numbers.
As of a few weeks ago, you could only buy Soap Socks online. The week before the show aired, they announced they were in "select" Nordstrom's. This makes me think a Shark is involved. The timing of the announcement is just too coincidental. The question is, which Shark bites?
I can't see Mark or Robert bidding on this. Mr. Wonderful is a possibility, but I'm guessing it's Daymond or Lori. I'm leaning toward Lori because the SoapSox store is hosted by Big Commerce. Daymond usually goes with Shopify and Lori has a lot of retail connections, so she's a likely bidder. Whichever Shark does bid, I think Soap Sox is going to lather up the Shark Tank!