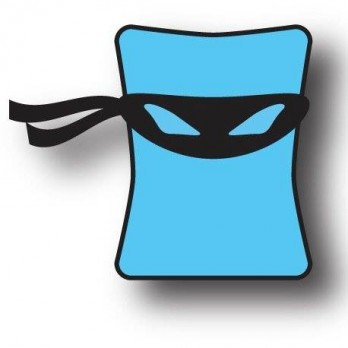 Dustin Berk and Ken Haton pitch Ninja Cards, a darts-like card throwing game, in episode 603. Many people (before the advent of smart phones) pitched cards to pass the time; Dustin and Ken are no exceptions.
One day, while traveling for business, the guys were pitching cards at bottles in their hotel room. That little pass time inspired them to create a card throwing game, which ultimately became Ninja Cards. What makes Ninja Cards different from any other card throwing game out there is the target.
Ninja Cards are heavier than normal playing cards, so they fly truer. Players aim the cards at a target board and the cards stick in the board, much like darts. I guess they get the Ninja name from the Ninja throwing stars; the cards behave in a similar fashion and they can cut through fruit and break bottles. They could probably do a world of hurt if thrown AT somebody, so caution is required.
My Take on the Card Throwing Game
I like darts, so I'd probably enjoy Ninja Cards. It's basically darts with cards and a different board. Any new game that doesn't involve a smartphone or a tablet is good in my book. People seem to forget they can entertain themselves with something other than their iPhone. I think Ninja Cards are a good addition to any game room or toy chest. The idea of flinging a card hard enough to stick into something is cool, too.
The only reservation I'd have is the danger involved. It's probably not a good game for little kids, but anyone "old enough" to play darts could handle Ninja Cards. As long as you're safe when playing, it looks like fun!
Will the Sharks Become Ninjas?
There are a lot of toys and other kids products that appeared in the Shark Tank, but this is the first game I can recall. All the TV promos are hyping the fact the Sharks appear impressed by the card throwing game, but Dustin and Ken reveal they've only sold 100 units (as of the taping). That's not big sales for the Sharks. That said, it's a unique product. There's always room for something new and innovative in the Shark Tank, no matter what it is.
Kevin O'Leary, with his background in the toy business, is the obvious target Shark for the Ninja Cards guys. IF he's interested, we could see a royalty deal offered. I can't see Daymond, Mark or Robert making a bid, they'll likely use the "it's too early" excuse. Lori might be interested if she thinks it's a "hero," toys do sell on QVC after all.
I think the Ninja Cards have the best bet with Mr. Wonderful, but he can't be too greedy. If he offers a reasonable royalty deal or an equity offer at 40% or less, Ken and Dustin should jump at the deal.