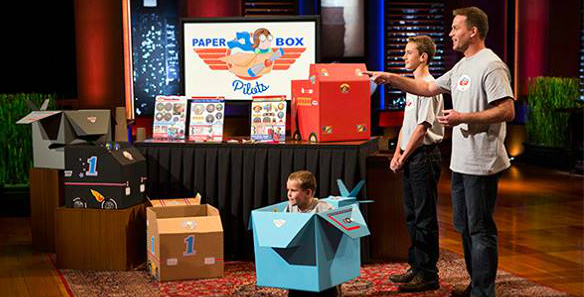 13 year old Noah Cahoon, along with dad, Brian and little brother, Milo, pitches Paper Box Pilots – his airplane stickers kit – in episode 606. The origins of the business began when Noah was 4 years old. His dad used to turn old boxes into airplanes for Noah; he'd draw instruments and decorations on the boxes to make them "flight ready." When the drawing became too tedious, Brian printed out pictures of instruments and taped them on the boxes. Fast forward 10 years: now Milo is of the age for paper box airplanes and Noah got the idea of making airplane stickers to put on the boxes (making dad's job easier).
Noah sells the airplane stickers in kits that cost $7.99. The kits let anyone turn a regular cardboard box into an airplane; there are kits for race cars and firetrucks too. Since opening for business in 2013, he's shipped his airplane stickers all over the world. He even set up a "paper box carnival," complete with Paper Box Pilots and planes, at  Hill Air Force Base in Roy, Utah for his Eagle Scout Project. Entrepreneur AND Eagle Scout – Noah's got it going on!
My take on Paper Box Pilot Airplane Stickers
I remember playing with paper boxes when I was a kid. My kids played with them and my youngest is making a "Plankton" costume (from Spongebob) out of a paper box for Halloween. Like the old joke says: kids like the box more than what comes inside! Seriously, if you are a parent, you've had a paper box fort or vehicle in your home at one time or another.
The best part about Paper Box Pilots is it's a creative toy. Kids like being creative and they want to use their imaginations. Unfortunately, a lot of toys these days are counter-imaginative. That's why toy boxes fill up with unused toys – the kids get bored. This is good for the toy industry, since parents keep getting new toys their kids get bored with and they end up in this never ending cycle. Get a kid a big cardboard box and they won't ever want to stop playing with it.
I like Noah's business and I wish him well. I am IN, with a set of airplanes tickers and some race car stickers, too.
Will Paper Box Pilots Fly with the Sharks?
Whenever a "kidtrepreneur" comes into the Tank, I expect them to get a deal. Mark Cuban is always very supportive to young entrepreneurs and almost always makes an offer. He gets all sentimental about his youth, but he genuinely wants to help kids get started in business. This attitude is shared by some of the other Sharks, and while they don't always do a deal with the kids, they are usually supportive.
Any Shark could do a deal with Noah, but my bet is on either Mark, Lori, or Barbara. If Noah's margins are decent, his ask ins't ridiculous, and he presents himself well, expect him to leave with an investment in his airplane stickers business.