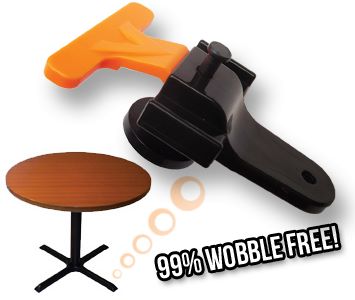 Steve Christian hopes the Sharks like Table Jacks, his invention that eliminates "table wobble," in episode 606. Christian created Table Jacks to give restaurant owners an easy way to eliminate wobbly tables without using napkins or cardboard. If you've ever been to a restaurant with a wobbly table, you know what a turn off it is.
When using the Table Jacks system, you fasten three rubber "feet" to three legs of the table and the adjustable stabilizer to the fourth leg. By stepping on the lever, a server, owner, or even patron can quickly adjust a table so it doesn't wobble. Christian sells individual kits on Amazon and he has special pricing for restaurants that order in bulk. There's even a group of Table Jacks installers in 9 states if a restaurateur doesn't want to deal with putting them on all the tables. Christian installed Table Jacks in over a dozen national restaurant chains, including Applebee's and Smith & Wollensky.
Mr. Christian has had some success in the restaurant market in the three years he's been in business, and he's likely looking to expand his network of installers nationwide.
My Take on Table Jacks
I eat out at least once a week and I have been a victim of the wobbly table on numerous ooccasions At one local breakfast joint, I almost always have to break out a napkin to stabilize things, lest I spill my coffee; this place DEFINITELY needs some Table Jacks!
What really irks me is when this happens at a pricey place. If I'm dropping $30 bucks for an entree and my table is wobbly, I get annoyed. I ALWAYS ask to get the "wobblyness" fixed or be moved to another table as soon as I discover the issue. Martinis and wobbly tables just don't go together.
I have pain about this issue as a consumer, but restaurant owners may or may not feel the same pain. I'm thinking the more high-end (or high volume) a place is, the more receptive they'll be to the Table Jacks solution. The small, local joints (like my breakfast spot) are more likely to stick with pieces of cardboard or napkins. I think it's a great invention and there's definitely a market for it, but will the Sharks feel the same way?
Do Sharks Get Jacked Up and Invest?
While wobbly tables are a problem that the Sharks sure y have encountered, will they see the bigger picture with Table Jacks? My gut tells me that, while they'll all agree it's a good product, they will likely think it's too niche. Christian has a good business going and a patent on his product, but I don't think it's investment worthy, unless his valuation and ask are spot on.
If he's just looking for cash, he may get some bites. Mr. Christian seems to have his marketing in order, his issue is expansion. If he wants to go national quickly, he'll need capital to produce product. A Shark might be interested if it's a "hands-off" type of deal that involves providing cash to fill orders or expand. If Christian starts with the "I need your expertise" type of pitch, he'll face a quick trip out of the Tank.
That said, Mark and Mr. Wonderful are the most likely Sharks to kick some cash his way. Mark's done purchase order financing deals before, so it's not out of the realm of possibility. Table Jacks is a perfect business for a Mr. Wonderful royalty offer – it might actually make sense in this case for a change. I can't see Robert, Barbara or Lori getting too excited about investing in Table Jacks, so Christian better focus on Mark and Kevin.