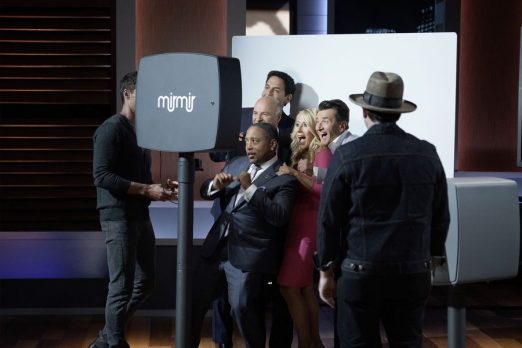 Mir Mir creators Sean Spencer and Ryan Glenn are the darlings of the celebrity party set. Their photo booths are THE must-have addition to any glamorous bash thrown by the rich and famous. Mir Mir (pronounced "meer merr" which is short for "mirror mirror") gained fame and cache when the Kardashians hired them for a Christmas Eve party back in 2013. Since then, the photo booth that shoots pictures like they're out of a fashion magazine is nearly ubiquitous at Hollywood parties.
The secret is their proprietary software that filters images. The software adds filters which make their mostly black and white pictures – and their subjects – look flawless. The Kardashians, and other celebrities, constantly share the photos on Instagram and other social media. This word of mouth advertising by social media rocketed the business to the point where they don't need to advertise.
Both men come from the fashion world in New York City. After they met, they realized the separate photo booth companies they were operating shared the same clientele, so they merged and formed Mir Mir. They primarily provide services in metropolitan hot spots like Dallas, Los Angeles, New York, San Francisco, Toronto and Montreal, but they "love to travel."
The service isn't cheap. Prices for a four-hour set up start at $2750. When you a printing, GIF capability and social media sharing, the price goes up. This isn't a photo booth for a kid's party or a typical event. It's a high-end, status symbol for folks who don't mind dropping significant change to look good. They hope to add the Sharks to their list of clients, and partners, when they pitch Mir Mir in episode 825.
My Take on Mir Mir
I looked at a bunch of their pictures on social media. They do look good. There's an artistic quality to their work that surpasses the standard photo booth snap shot. The fact that the Kardashians adore them doesn't impress me – I'm not a fan. Just because Hollywood big shots like something isn't a motivation for me to buy, but I am in the minority.
For me, the price is a bit out there. It's not something I'd hire out for one of my parties. I've attended many weddings, corporate events and political functions that had photo booths as part of the "entertainment," and I eagerly partook in the fun, but I am not a direct customer. I'll file this one under "cool, but I won't buy it."
Do the Sharks take a Shot at Mobile Photo Shoots
Before Shark Tank, the only recognizable Shark to the average American was Mark Cuban. Since the show became popular, the Sharks became celebrities in their own right. That puts the Sharks squarely into the Mir Mir demographic, but does it make them investors?
As you can see from the photo accompanying this post, the Sharks enjoy the product. Mir Mir, with its zero marketing expense, celebrity appeal and huge margins, surely has solid sales and profitability. The Sharks like those three things.
I am predicting Mir Mir gets a deal. In season 4, Barbara invested in Pink Shutter photo booths. Mark Cuban wanted in on that deal, but he backed out when the entrepreneurs balked at the percentages. Since the press release came out for episode 825, Mir Mir completely overhauled their website. Their old website was, in my view, kind of crappy. The new site is bold, bright and far more functional; far more fitting for a business whose business is images.
When a website gets such a drastic overhaul before a Shark Tank air date, it's often a sign of a Shark's involvement. Since Mark wanted in on Pink Shutter, why wouldn't he want in on a superior service with established credibility? Mark, the ultimate celebrity Shark, is going to bid and be a partner, either by himself or with another Shark, but most likely alone.