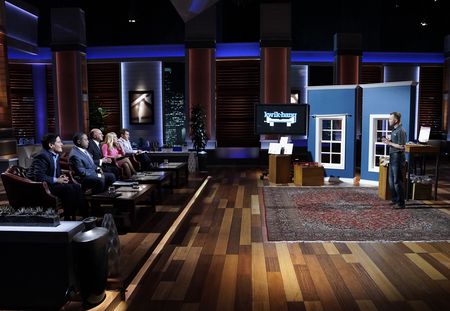 KwikHang is a product that solves a problem. Anyone who ever hung curtain rod brackets knows it can be a pain in the neck. You have to measure, make sure the brackets are level, then drill holes in your wall for the brackets. Sometimes, the drywall gives way and you're left with a mess. Even when everything goes smoothly, it's a time-consuming, precision activity. With Kwik Hang, those brackets go up in a few seconds.
KwikHang comes with nails attached to the brackets that go directly into the window frame. They securely mount quickly and out of sight. Derrek Burr hopes the Sharks see the utility and convenience of the product when he pitches it in episode 825.
The pitch is sure to be heart-wrenching. Derrek didn't invent the KwikHang, his father, Thomas, did. Sadly, the elder Burr passed away after a bout with cancer. Derrek's dad was a life-long inventor who thought the Kwik Hang would be his breakthrough product. Despite two unsuccessful Kickstarter campaigns, he brought the product to market.
Derrek is carrying on his dad's dream and running the business. There are 5 basic models that fit different curtain rod bracket situations. Each comes in black, silver, brass and white finishes to match any decorating needs. They're inexpensive (under 20 bucks) and fit nearly every curtain rod installation configuration. It's not a "sexy" product, but it's universal and a Shark can help make it HUGE.
My Take on KwikHang
This looks like a great product. I don't particularly care for hanging curtains and it's something my wife likes to torture me with. Every few years, she comes home and says "check out the new curtains I got!" This results in me schlepping out my step-ladder, drill, tape measure and level for what's usually an hour-plus chore. The entire time, she's "supervising" my work. It's nothing earth shattering, but a product that's ready to go in a few minutes would make my life a tiny bit easier.
In the end, that's what great inventions do: they make life easier. KwikHang fits the bill. Reviews are unanimous – it really does what it says it will. It looks like Mr. Burr has a real winner here. I just hope my wife doesn't go out and buy more curtains after watching this episode!
Will Sharks want to Hang with this Business?
There are 125 million plus households in the USA. That represents a LOT of curtains – and curtain rod brackets. KwikHang is something that potentially everyone could use. The Sharks, once they get beyond what's sure to be an emotional appeal, will like this. This should be in every hardware store and home improvement center in the country.
Despite the obvious "it's a product, not a business" objection,, there isn't much to object to with this business if you're a Shark – other than blatant mismanagement. This product is right up Lori's alley. It might not be a good QVC item, but her track record with other home improvement products (Paint Brush Cover, Fiberfix etc.) and her connections with Bed Bath and Beyond (which sells curtains) and Home Depot make this a good partnership. Since the PR came out for this episode, the Kwik Hang website got an overhaul. Could it be long before we see it on the shelves?