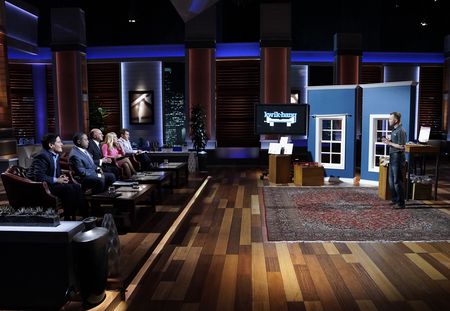 Derrek Burr seeks a Shark he can hang with when he pitches Kwik-Hang, an easy way to hang curtains, in Shark Tank episode 825. The product is a uniquely shaped bracket that nails into the top of the window frame. It quickly and securely holds the brackets for curtain rods, making screws in drywall unnecessary. The idea originated from Thomas Burr, Derrek's father, who sadly passed away from cancer.
In 2015, Mr. Burr conducted 2 unsuccessful Kickstarter campaigns to get the KwikHang off the ground. Those projects failed as he battled cancer. Derrek decided to continue to build on his father's dream and try to get the Sharks to help him.
Kwik Hang is currently for sale at only 11 bucks for a pair of basic brackets. There are different sizes for any kind of curtain rod installation and the prices range from $7-$18. Thomas Burr patented the Kwik-Hang and bought some basic machinery to manufacture them on a small-scale. Derrek probably wants a Shark's help scaling up production capabilities.
Will a Shark want to hang with Derrek and his business??
Company Information
Video

Posts about Kwik Hang on Shark Tank Blog
KwikHang – The Easy Curtain Rod Holder
Kwik Hang Shark Tank Recap
Derrek enters the Tank seeking $80,000 for 20% of the business. He gives his pitch and demonstrates installing the curtain rod hangers. Then he hangs ten pound bags of potatoes on each bracket to demonstrate their strength. Next, he hands out samples and the questions start. Lori wants to know why there aren't more sizes – Derrek explains that it is possible, he just wasn't tooled up for that yet. Lifetime sales (3 years) are $120,000 with $42,000 coming last year (2016). When Derrek reveals his full time job as a police officer, Kevin wants to know who will run the company. Derek said he'd retire if he got a deal.
Mark doesn't think it's investable and he's the first Shark out. Lori says she thinks Derrek should license the product before going out. Daymond tells Derrek to grow the company slowly before he goes out. Kevin echoes Lori's licensing advice before he goes out. Robert is the last Shark out saying Derrek's price points are too low.
Kwik-Hang Shark Tank Update
The Shark Tank Blog constantly provides updates and follow-ups about entrepreneurs who have appeared on the Shark Tank TV show. In 2017, Derrek added more sizes to the line. In 2018, he got distribution in over 5000 ACE Hardware Stores. Now it can be found in Home Depot, Wal Mart, Amazon and many other locations. Derek has patents for his product, but it's got many cheap knock-offs and he's constantly appealing to Amazon to remove the knock off products. In February, 2021, Derek appeared on HGTV's Self-Made Mansions, a show where once penniless entrepreneurs search for their dream house. As of August, 2023, lifetimes sales are over $9 million and the company is doing about $1 million a year in revenue.