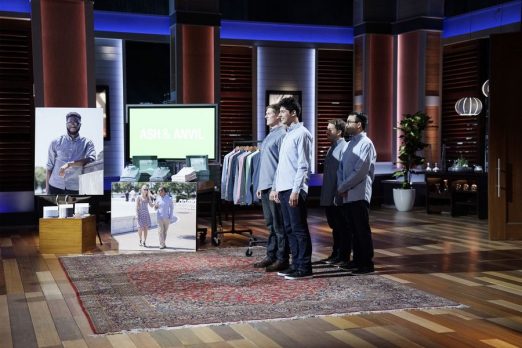 Steven Mazur and Eric Huang pitch Ash & Anvil (re-named to Ash & Erie) , their clothing designed for short guys, in Shark Tank episode 825. Both men are short and they had problems finding off the rack clothing that fit, so they created a line of clothing that fits men 5'8" and shorter.  While there are many "big & tall" clothing lines, the short guy market was underserved.
Steven and Eric saw an opportunity and decided to create prototype clothes. They got seed money to make small runs of their first designs with a successful IndieGoGo campaign that raised $26,461. That was in 2015. Since episode 825 is a season 8 episode that isn't airing until season 9, they probably taped their episode in 2015 as well.
For shorter guys, finding clothes that aren't too baggy or too long is tough. When they started, they just sold shirts. Since funding, they've added jeans too. Their products are made in the USA , too. At $79 for a shirt and $159 for jeans, they're on the pricey side, but short guys everywhere have rave reviews. They likely need a Shark to help them manage growth.
Will a Shark go long on this short investment?
Ash and Anvil Company Information
Video

Posts about Ash and Anvil on Shark Tank Blog
Ash and Erie – Clothes for the Little Guy
Ash and Anvil Shark Tank Recap
Steven and Eric enter the Tank seeking $100,000 for $12.5% of their business. They start their pitch and lament how difficult it is for shorter guys to find clothes. At the end of the presentation, they rip off the shirts they are wearing to  reveal good fitting Ash and Anvil shirts. After they hand out samples, the questions begin.
Robert wants to know what constitutes as short and they reply five foot eight inches and shorter. Daymond, who says he's five foot eight, goes up to measure himself against the guys. Kevin wants to know sales which are $130,000 over 9 months. They sell the shirts for $79 and make them for around $35. The guys want the cash to build inventory. With 1 in 3 men in the USA below five foot eight in height, they have 40 million guys to sell to.
Robert thinks they have a solid concept, but it's not a good fit for him; he's out. Lori says she's not the right partner; she's out. Daymond didn't like the stigma of shorter men needing "special clothes;" he's out too. Mark offers $150,000 for 25% but he wants an answer right away. Kevin offers $100,000 for 15% and the guys start talking to each other. While they're talking, Mark says "I'm out." They ask Mark if he'll still do the deal and he agrees.
Ash and Anvil Shark Tank Update
The Shark Tank Blog constantly provides updates and follow-ups about entrepreneurs who have appeared on the Shark Tank TV show. The deal with Mark never closed. It turns out, the guys were able to raise money on their own. Right around the time their episode aired, they changed the name of the business to Ash and Erie due to concerns from "a larger company" that they were infringing on some of their trademarks.
In May, 2018, about 7 months after they aired, they hit $1 million in sales. A year later, they raised $1.2 million in a venture funding round. Since airing, they've raised a little over $5 million. As of December, 2021, the company is doing a little over $1 million a year in revenue. In August, 2022, they introduced new premium polos, summer shorts and rain jackets. As of February, 2023, revenue for 2022 was $2 million.