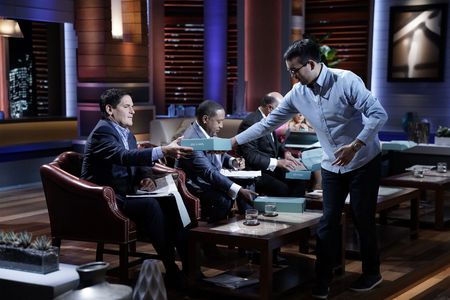 Ash and Erie founders Steven Mazur and Eric Huang had a different name for their business back in 2016: Ash and Anvil.  Their product arose from the Detroit Fellowship program, an entrepreneurial incubator contributing to Detroit's renaissance. The idea for their business, clothing for men five foot eight inches and under, came from Mazur's girlfriend. He asked her what he complains about the most and the answer was: "shopping with you."
The reason she hated shopping with her diminutive beau was he could never find clothes that fit. There are big and tall shops for men, petite sizes for women, but no clothes for shorter men. Sometimes, he shopped in the children's department! More often than not, the one in three American men who stand 5'8" or under pay a "tailor tax." That's an extra $10-$20 per article of clothing for tailoring.
Huang and Mazur founded Ash and Erie for the little guy. They create clothes that fit men under 5'8″ that fit off the rack. Initially, they sold shirts. Now, they've expanded to jeans and they hope Ash and Erie will be the first :"short and small" shop for men online. They'll try to convince the Sharks that their idea stands tall when they enter the Tank in episode 825.
The pair got their business off the ground with $50K in winnings from a start-up pitch competition, plus nearly $27,000 in pre-orders from a successful IndieGoGo campaign back in 2015. The clothes are 100% American made: designed in Detroit and stitched up in Los Angeles. Exactly why they changed their name is a mystery, but I can only guess that the "Erie" in Ash and Erie is a nod to Lake Erie which lies south of Detroit. So far, the clothing has good reviews and a growing customer base. Convincing a Shark it's worthy of an investment will be a tall order however.
My Take on Ash and Erie
At six feet, 200 pounds, I am not in Ash and Erie's demographic, but I totally get what they're up to. My wife shops the petite section in clothing stores, as does one of my daughters. The ladies, as mentioned above, have no shortage of choices for undersized clothing, but guys do. If I were more vertically challenged, I sure as heck wouldn't want to shop in the kid's department.
The line is fairly basic for now. There are a few dozen Oxford cloth shirts in varying colors that run between $79-$89 apiece. The jeans are a whopping $159. Apparently, the short and small space doesn't have a bargain rack yet! At those prices, it would take a while to totally outfit your entire wardrobe all at once, but the pricing shouldn't scare off too many customers. While I won't be a buyer, I get what they're doing and they have a good size market to sell to. I am in.
Do Sharks invest in the Little Guy?
Whenever a clothing company comes into the Tank, Daymond is the obvious target. Ash and Erie has a unique niche – one Daymond (or anyone else) hasn't seen before. To get the Sharks circling, Steve and Eric need to show good sales and strong growth, plus a plan for expanding the line. While they sell exclusively online, it isn't out of the question that retail is potentially in their future. Lord knows there are plenty of big and tall stores out there.
Odd-size clothing buyers are more likely to go out and shop rather than point and click, too. Because their sizing needs are so special, it's worth the trip. Steve's girlfriend and her many co-sufferers could actually shop without hearing complaints!
As for the Sharks, I think a deal gets done. This pitch – in fact the entire episode – is an "in the can" episode from season eight. The name change, the look and feel of the website and the unique niche point to a deal. It's either Mark or Daymond who bids, maybe they even team up. Either way, Ash and Erie leaves the Tank standing tall.