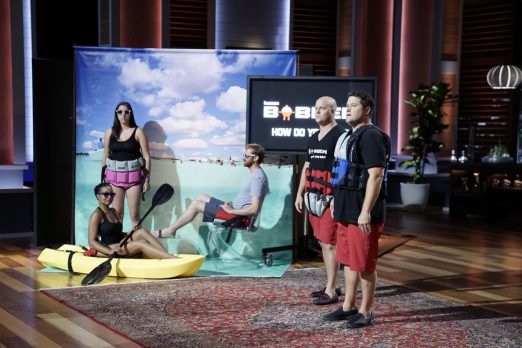 Justin Rietema and Doug Schultz want the Sharks to float them some cash when they pitch the Human Bobber, their multi-functional personal flotation devices, in episode 825. The pair started the company in 2011 in Fort Lauderdale, Florida. Their products are life preservers – with a twist.
They can be worn as a vest for water sports and converted to wear like a pair of shorts. This lets people "sit" in the water. This is great if you need to work on a boat while it's in the water or for just lounging. The Human Bobber also doubles as a comfy kayak seat. It's essentially an upside-down life jacket/water seat.
For boaters, Human Bobbers are a Coast Guard approved life vest. The beauty is, guests on the boat can also use it as a personal floatation device, so there's no need for extra "toys." The vests convert to a chair-like float or, when worn like a pair of pants, lets you become a literal Human Bobber. They sell for $65 – in line with pricing for a quality life vest. They also sell a beverage bobber – a life vest that lets your drink safely float – for 18 bucks.
The products are available in many stores and on Amazon. The guys likely want a Shark to help them expand market share. Will a Shark want to swim with this business?
Company Information
Video

Posts about Human Bobber on Shark Tank Blog
Human Bobber Shark Tank Recap
Justin and Doug enter the Tank seeking $120,000 for 15% of their business. They're wearing their product as they give their pitch. At the end of the pitch, Justin removes his life vest and reverses it into a seat. After handing out samples, Kevin wants to talk numbers. A Scuttlebutt cost $22.80 to make and sells for $65. The Bottoms Up vest costs $27.80 to make and sells for $90. They only have $63,000 in sales so far but they claim it's because they were waiting on coast guard certification which they got this year (the segment was taped in 2016).
Kevin is the first Shark to make an offer: $120,000 for 33.3% of the business. Robert said it was a good offer but Justin and Doug don't think so judging from the look on their faces. Mark thinks there could be synergy with Tower Paddle Boards, but he knows this will require a lot of work. At this point, Lori  says the company is too small; she's out. Robert isn't interested in investing; he's out too. Daymond says they're too small for him to leverage his distribution network; he's out.
Mark says he wants in for 10% of Kevin's 33%, but he doesn't want to pay a share of the $120,000. He says he'll hook them up with Tower Paddle Boards and feature the products on his Amazon exclusives page. Kevin says "everyone pays" and tells Justin and Doug they'd have to give another 10% if they want Mark in. Oddly enough, even though they're giving up 43% of their business, they agree to a deal.
Human Bobber Shark Tank Update
The Shark Tank Blog constantly provides updates and follow-ups about entrepreneurs who have appeared on the Shark Tank TV show. The deal with Mark and Kevin never closed. The guys had product in West Marine and Camping World for a while, but they aren't there as of August, 2022. They are on Amazon though. The company now makes bobbers for drinks too. Human Bobbers is still a side hustle for Justin and Doug. Justin works at an engineering firm and Doug works at a landscape architecture firm. As of February, 2023, annual revenues are around $950,000, that's not a bad side hustle!