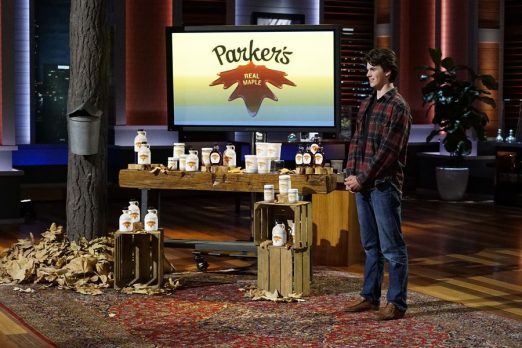 Joshua Parker hopes the Sharks are sweet on his 100% maple syrup business, Parker Maple, in episode 806. He makes his syrup on his family's farm in upstate New York. Joshua got into the business at age 11 after visiting a local sugar house and learning how to tap maple trees for their syrup. His first production run was about 15 gallons. Joshua upped production each year and is shooting for over 1500 gallons this season.
About 3 million gallons of pure maple syrup get produced each year, and that's only a fraction of the overall syrup market. Most store-bought syrups contain artificial flavors and corn syrup. Pure maple syrup makes up less than 10 percent of the total sales volume for pancake syrups. Pure maple syrup has anti-oxidants and lots of minerals, not to mention a lot less sugar. In addition to syrup, Parker Maple produces maple butter and maple cotton candy.
Joshua makes Parker Maple during the winter, when trees can be tapped. He juggled school and sports with his growing business for years. Now he's 18 and in the Tank. He wants to grow his business since he believes pure maple syrup is an untapped market with a lot of room for growth. The industry can provide needed jobs in rural areas during the winter months, too.
He likely needs a Shark to help him amp up production. Will a Shark tap into this potentially lucrative business?
Parker Maple Shark Tank Recap
Joshua enters seeking $200,000 for 20% of his business. He tells his story and hands out samples. He wants to partner with a Shark to take his company to the next level. The Sharks love the products. Kevin tells a story about his collegiate maple syrup making. His friends called him "Maple Man."
Josh has done $360,000 in sales the past three years and expects to have $1.5 million in 2016. Barbara wants to know what's so special about his syrup and he says he's building his brand around the secondary products like the maple cotton candy. He also reveals a recent $100,000 order from Costco.
The Sharks like Joshua, but not his margins. A bottle of syrup costs him $8.46 to make and he sells them for $11.99. Mark doesn't like the $300,000 in debt, but Josh says he has that much in inventory and equipment.
Barbara thinks Joshua's sales projections are incorrect and she goes out. Mark doesn't like the margins and thinks Joshua will need to significantly increase production. He's out. Robert followed next. Lori goes out citing poor margins and optimistic sales projections. Kevin is the last Shark out and Joshua leaves with no deal.
Parker Maple Shark Tank Update
The Shark Tank Blog constantly provides updates and follow-ups about entrepreneurs who have appeared on the Shark Tank TV show. In the four years following the initial air date, the company "catapulted the brand into four years of explosive growth." They sold 7000 units the week after airing and got into over 3000 stores including Wal Mart, Whole Foods and Wegmans's. On June 22, 2020, Joshua announced that the company was acquired for an undisclosed amount by The Forest Farmers, a company that "produces a variety of tree syrups under the New Leaf Tree Syrups brand, including maple, maple walnut, maple birch, birch and beech." Joshua, as of January, 2022, still works for the company.
Posts About Parker Maple on Shark Tank Blog
Company Information
Video