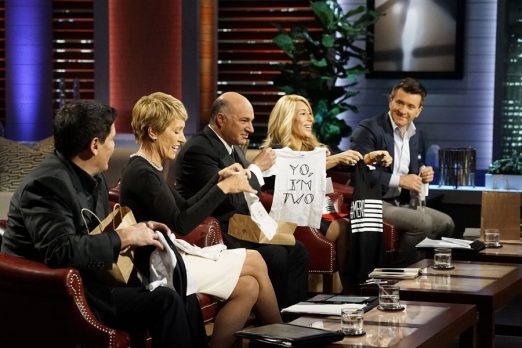 The Sharkettes return in episode 806 as four new entrepreneurs pitch their businesses in hopes of an investment from one of the wealthy Shark panelists. 18-year-old Joshua Parker pitches Parker Maple, his 100% pure maple syrup business he started when he was only 11 years old. Cyndi Lee wants to grab a Shark to invest in SafeGrabs, her 8-in-1 silicon microwave oven mitt that's also a place mat, trivet, potholder, jar opener, utensil rest, splatter guard and food cover. Melissa Lay hopes to net a Shark to invest in Sandilake Clothing, her line of hand-screen printed tops and caps. Lay is most famous for getting one of her designs knocked off by Target! Dog lover and entrepreneur Mikey Lickstein pitches Silidog, his glow in the dark, colorful, personalized, soft dog tags with a philanthropic twist.
Which business leaves the Tank with a deal?
In this episode's update segment, We see the first "rags to riches" story about a Shark. In the segment, we'll get an up close and personal look at Kevin O'Leary's life and what led him to business success and the Shark Tank.
There are 28 Shark Tank Episodes for Season 8. This season features more appearances by Chris Sacca and a host of other surprises. Casting is currently closed, but it never hurts to get a head start on season nine! If you would like to appear on the show, check out our Auditions and Casting information.
Episode 806 – The Shark Investors and Entrepreneurs
The Shark Tank Episode 806 entrepreneurs will make their best pitch to the panel of five Shark investors who will use their own money if they choose to invest. The Shark Investors negotiate on the spot without any previous information, which differs from typical negotiations between venture capital investors and entrepreneurial start-ups.
Companies pitching the Shark Investors must go through a rigorous due diligence process before an on-air deal is completed. Shark Tank Blog follow ups help you keep track of the companies that end up successful and the ones that don't complete their deal.
Thank you for reading SharkTankBlog, the number one site for Entrepreneurs, Investors and Fans. Our content updates multiple times day, giving you the latest information on Episode 806, Season 8, and all other seasons and episodes.
Episode 806 Press Release
Episode 806 (10/21)
THE FIRST IN A SERIES OF 'SHARK PROFILES' HIGHLIGHTING THE RAGS-TO-RICHES STORIES OF THE SHARKS, REVEALS A LESSER-KNOWN SIDE TO KEVIN O'LEARY,
THE SHARK KNOWN AS 'MR. WONDERFUL,' ON 'SHARK TANK'
A Stay-At-Home Mom Learns a Valuable Lesson about Copyright Infringement and Big Business, and a Teenager with a Passion for All Things Maple Hopes the Shark Can Help
Spread His Latest Idea to Tables across America
"Episode 806"— A stay-at-home mom from Milwaukee, Oregon, learns a valuable business lesson in the Tank as it relates to her stylish clothing line for little ones; an 18-year-old from Canton, New York, with a passion for all things maple, hopes the Sharks can help spread his delicious maple syrup products to tables across America; a woman from Houston, Texas, has risked everything for her simple and smart multi-use kitchen accessory; and a young man from Miami, Florida, created a new type of tags for dog lovers. Also, a profile on Kevin O'Leary reveals a lesser-known side of the Shark also known as "Mr. Wonderful," on "Shark Tank," airing FRIDAY, OCTOBER 21 (9:00-10:01 p.m. EDT), on the ABC Television Network.
The Sharks in this episode are Mark Cuban, Kevin O'Leary, Barbara Corcoran, Lori Greiner, Robert Herjavec.