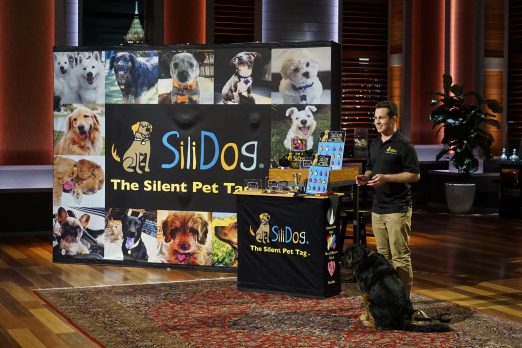 Mikey Lickstein seeks a Shark investment for Silidog, the new generation of dog tags, in Shark Tank episode 806. Lickstein, who got a Master's Degree in Entrepreneurship at the University of Florida, wanted to create a pet tag that didn't jingle or fade. He got the business started on Kickstarter in 2015, raising $11,357.
Mikey is a dog lover who fostered dogs while in school. He got inspired to create Silidog tags when a friend brought him a dog that was thrown from a moving vehicle. That dog, Bentley, decided he'd found his perfect person in Mr. Lickstein. With the help of some friends, they assembled a team and started the business out of his parent's garage.
The Silidog tag is soft, silicon rubber. Unlike metal tags, it won't fade or irritate a dog. They come in a wide variety of colors and even glow in the dark! Like metal tags, a dog owner would have contact information printed on it. Each tag costs $20 and a portion of each sale goes to the ASPCA.
Mikey likely needs seed money to fund growing production and assistance in approaching big box pet stores. Will a Shark like this philanthropic business?
Silidog Shark Tank Recap
Mikey enters seeking $100,000 for 15% of his business. He tells the story about Bentley and how he got the idea for the tags. As he hands out samples, he tells the Sharks it costs $2.99 to make a tag and he sells them for $19.99. To date, he's in 90 mom and pop pet shops and has $142,000 in sales. He expects next year's sales to be $200,000. He started the company with just $5,000. He thinks licensing and custom logos are the next step for the business. He wants to use the $100,000 to increase his manufacturing – he's still making them in his garage.
Kevin says he likes Mikey but can't see himself "doing the dog tag thing;" he's out. Mark quickly followed Kevin out saying he didn't like the pet sector. Barbara is next out, citing the limited opportunity for an investor. Robert said he'd "take a flyer" and offers $100,000 for 50% of the business. Lori offers $100,000 for 51% so she could have a controlling interest. Mikey counters Lori at 25% and she goes out.
All of a sudden, Barbara comes back in with an offer of $100,000 for 30% plus a $2 per unit royalty until she gets her money back. Kevin comes back in and matches Barbara's offer, but with a $1 royalty. Barbara announces she'll match Kevin's deal and then Kevin drops to a 75 cent royalty. Lori announces she'll do the same deal at a 50 cent royaly. Then Robert undercuts Lori and goes to a 25 cent royalty. Mikey eventually goes with Lori.
Silidog Shark Tank Update
The Shark Tank Blog constantly provides updates and follow-ups about entrepreneurs who have appeared on the Shark Tank TV show. The deal with Lori never closed and Silidog had some problems delivering on the deluge of orders from the Shark Tank Effect. This resulted in a lot of complaints.
Fortunately, the complaints were about delivery time, not product quality and Mikey worked through it. As of May, 2021, the company is still in business with about $900,000 in annual revenue. In January, 2022, the company was featured on Good Morning America and it continues to grow.
Posts About Silidog on Shark Tank Blog
Sili Dog Glow in the Dark Dog Tags
Silidog Company Information
Video