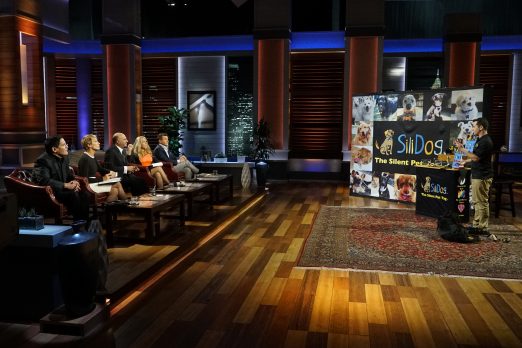 Sili Dog creator Mikey Lickstein is a dog lover and entrepreneur. After getting a Master's Degree in Entrepreneurship at the University of Florida, he decided to create a business that revolved around his love for our canine companions. After a horrific incident when his friend witnessed and rescued a dog thrown from a moving car, Lickstein sprang into action.
The first thing he did is he adopted the dog and named him Bentley. When he saw Bentley constantly scratching at his dog tags, Lickstein imagined a better alternative and Sili Dog was born. The product is a dog tag made out of durable, soft silicon. They glow in the dark and a portion of each sale goes to the ASPCA.
Like many recent Shark Tank entrepreneurs, Lickstein funded his company with a successful Kickstarter campaign. Each Sili Dog tag costs $19.99 including engraving, shipping, and the donation to the ASPCA. He recently started offering "SiliPass," a program where you buy a Sili Dog coupon at a retail location and redeem the coupon online.
Mr. Lickstein is passionate about dogs and his business, but will that passion translate into a deal with a Shark?
My Take on Sili Dog
I have a wonderful old dog who's been with our family for 15 years. She wears metal dog tags – one from the county and one with our contact information. They don't seem to bother her, but I bet she'd be more comfortable with a soft tag. I particularly like the glow in the dark feature.
I don't expect my poor old girl to live much longer, so I can't envision buying more tags for her. I think Lickstein needs kiosks like the ones you find in Pet Smart or Petco. They allow you to purchase a tag in the store. That's what he's trying to do with the SiliPass and what he needs to do to succeed in the future.
Do Sharks get Tagged?
Pet products have a rough go in the Tank historically. While I don't think the Sharks will disparage Lickstein, I am not sure they'll buy into his business. The biggest objection will be the kiosk issue. Dog tags, not the kind a locality issues, are an impulse purchase. They're something you buy at the pet store when you're stocking up for a new puppy.
Without a plan for a national deal, the Sharks won't see this as a viable business. If he could get municipalities to use his product, he'd have  a gold mine, but that type of market penetration can take years. Ultimately, the business model may work for Lickstein, I don't think it works for a Shark.