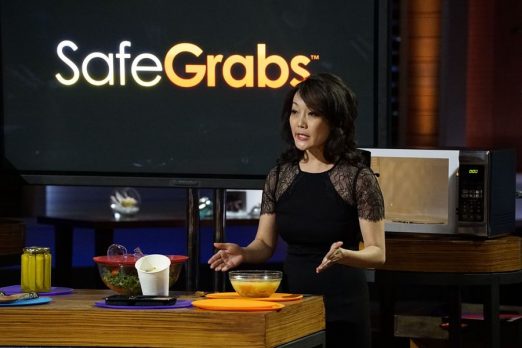 Safe Grabs inventor Cyndi Lee was always burning her fingers on hot dishes coming out of the microwave. This life-long affliction ultimately led her to invent SafeGrabs (formerly Micro Easy Grab), an 8-in-1 tool for dishes and bowls. Its primary function is safely grabbing hot plates out of the microwave, but it also acts as a placemat, splatter guard, trivet grabber, funnel, utensil rest, jar opener, and food storage cover.
Cyndi tried out for Shark Tank three times before getting asked to tape. She thinks not getting on previously was a good thing. Because she didn't get on Shark Tank, she had the opportunity to enter (and win) a QVC contest back in 2015. Winning got her on QVC and she promptly sold out when she appeared. She also got on the Steve Harvey Show and won $5000 in his Passion Project segment. It's that appearance, and the advice she got from the panelists, that prompted the name change from Micro Easy Grab to Safe Grabs.
Safe Grabs is selling well on Amazon, but Cyndi has her sights set on big box retail stores. She wants her product in Target, WalMart, and all the other mass retailers. Certainly there are Sharks that can help her there. She likely needs some purchase order financing, too. Will one of the Sharks grab this opportunity?
My Take on Safe Grabs
As I write this post, I have two Safe Grabs on my desk. Cyndi sent me a couple of samples: one ten inch size and one twelve-inch size. This is what you'd get if you ordered a two-pack from Amazon for $27.95. I am happy to get the opportunity to review and use another Shark Tank product and I will post a review here on the Shark Tank Blog when complete.
The product is a food grade, round silicon mat that, as stated above, has multiple uses in the kitchen. It's dishwasher safe, too. They come in a variety of colors – I got blue Safe Grabs! Since I get to use this product and likely will on a daily basis going forward – I am IN!
***Cyndi sent me a set of Safe Grabs. I sue them daily – they're great!
Will the Sharks Grab onto this product?
Cyndi has a few things going for her in the Tank. She's polished her pitch in other venues, which should help her when getting grilled by the Sharks. She also has sales. Safe Grabs sold out on QVC and she wowed Steve Harvey and company. Sales and proof of concept are good things in the Tank.
Obviously, she'll need a solid value proposition to attract a Shark or two. While good sales may prompt offers from other Sharks, the obvious target Shark is Lori. Safe Grabs fits Lori's "hero" criteria: it's a moderately priced, useful product with universal appeal. Add sales and proof of concept to that mix and I think Lori will make a bid. She has the QVC connection and she also has a history of getting products into big box stores quickly. Look for Lori to grab a piece of Safe Grabs.